Coach Chauncy Billups' Recent Statement About Damian Lillard Is Worrying for Blazers Fans
Published 10/08/2021, 9:30 AM EDT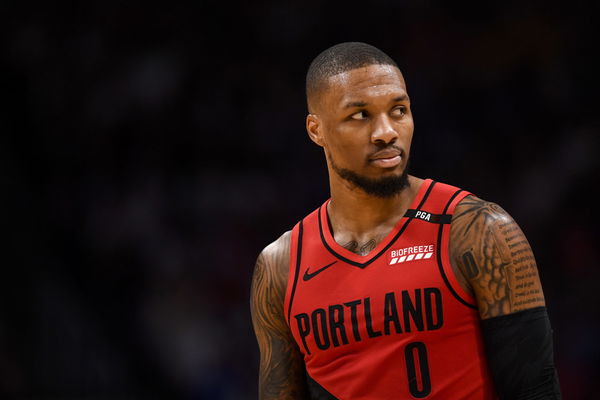 Damian Lillard might be one of the best guards in the league, but unlike his compatriots like Stephen Curry, Lillard's success in the post-season has been sparse. With constant exits in the first and second round, the Blazers have never been in championship contention.
ADVERTISEMENT
Article continues below this ad
Unlike other top teams in the league who are rather proactive in the off-season, the Blazers have stuck around with some players like CJ McCollum who is a great guard but given his defensive lapses is not the ideal second star in the team.
ADVERTISEMENT
Article continues below this ad
Even in the 2020-21 season, the Blazers were touted to become one of the top teams in the West. With teams like the Lakers struggling with injuries, the Blazers had a real chance to make a solid run in the post-season. But Lillard and Co. crashed out yet again, this time against a Nuggets side that was missing a key member in Jamal Murray.
Chauncey Billups reveals his expectations for the future of Damian Lillard
Given the Blazers' disappointing run in the playoffs yet again, Dame's future with the team is still up in the air. Although the Blazers did bring in a new coach in Chauncey Billups, their off-season acquisitions haven't been that impressive.
With rampant trade rumors, Billups recently clarified his stance on Lillard's future with the team. In a recent interview, Billups said, "Of course, I want to coach you. I came here to coach you, but it's your career and it's your life and your family. I've been there before, and I'm not going to be the guy preaching. 'Stay here, stay here, go there, do this.'"
ADVERTISEMENT
Article continues below this ad
The former Finals MVP added, "I'm not going to selflessly say, 'Oh, you have to stay, you have to stay,' No, no, because I got a lot of other guys that I have to. I'm responsible to coach as well. But we all know we want to keep doing it. And I think Damien wants to stay and as you've heard from him, as everybody's seen and heard from him, Dame is all in."
ADVERTISEMENT
Article continues below this ad
These comments will certainly worry many Blazers' fans. With trade rumors rampant and Lillard voicing his disappointment with the lack of post-season success, the 6-time All-Star has never been closer to a probable trade. Will Damian Lillard stick around with the Blazers this season? Let us know in the comments section down below.