Devin Booker Explains What the Kobe Bryant Mural in NBA's Newest Commercial Means to Him
Published 10/13/2021, 12:30 PM EDT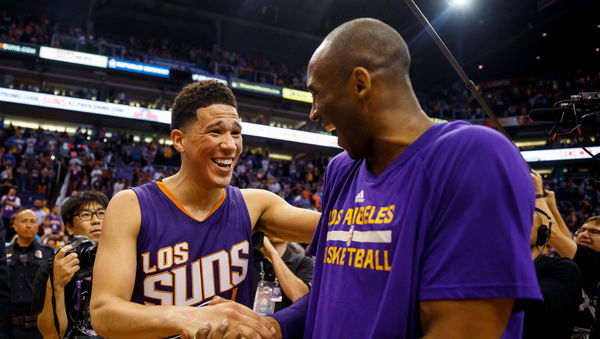 ---
---
Kobe Bryant and Devin Booker shared a special relationship ever since the Suns drafted Booker into the league. Booker always described Kobe Bryant as his idol and modeled his game around the way Kobe player. Moreover, last week, the NBA released a commercial featuring many legends from the history of the NBA. In the commercial, there's a 10 second moment of silence as a tribute to Kobe.
ADVERTISEMENT
Article continues below this ad
Devin Booker specially features in that shot saluting the mural of Kobe in the background. The mural quoted Kobe's famous advice to Booker, "Be legendary". Here's what Booker had to say about the origin of that mural tribute:
ADVERTISEMENT
Article continues below this ad
Devin Booker on his tribute to Kobe Bryant in NBA's newest commercial
In a press conference after a preseason game, Devin Booker spoke to the media about the NBA's newest commercial. While talking about his tribute to Kobe, he said, "I had a few people telling me that that was their favorite spot. I'm glad the way it turned out, obviously. No lines, which is how I wanted it to be and I got to pay my respects at the same time. So it's a no-brainer for me. I talked to Vanessa about it, she 100% cleared it, which made me feel even more comfortable doing it. And that was that."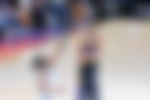 Further, the reporter asked him if he felt in awe of seeing the final shot with the mural. He said, "I know how Photoshop works. But there's a lot of murals of Kobe down there that I've drove past and had that same feeling. You know so it was pretty accurate and easy to get into character knowing what it was for, for me". 
Several experts around the league have compared Devin to Kobe for their style of play. However, Devin has always shot down any comparison, stating that Kobe Bryant is his idol and he is not in the same league as Kobe was.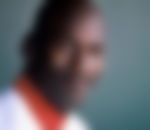 ADVERTISEMENT
Article continues below this ad
What does 'Be Legendary' mean to Devin Booker?
Watch This Story
ADVERTISEMENT
Article continues below this ad
After a regular-season game in 2016, Kobe Bryant signed a pair of shoes for Devin Booker which read, "Be Legendary". Ever since then, this message has been close to Devin. Kobe truly has a special place in Devin's heart.
Watch This Story: Oscar-Winning Dear Basketball, Debut Role in TV series Moesha & Other On-Screen Appearances by Kobe Bryant