"Didn't Even Watch It": Knicks Forward Julius Randle Disregards the WWE Appearance of Trae Young
Published 09/19/2021, 11:30 AM EDT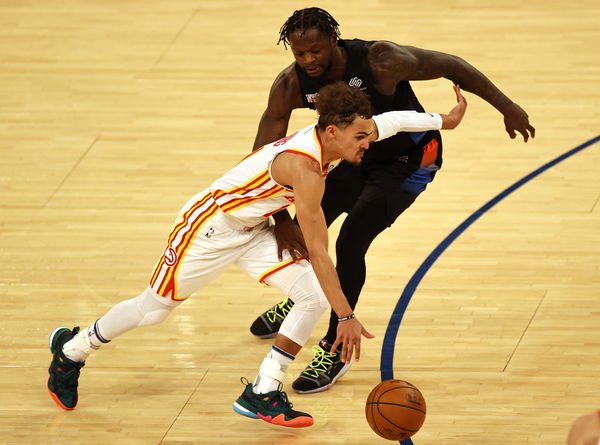 ---
---
Trae Young has become notoriously famous in New York City for his tremendous performance in the playoffs last season. Whenever the Atlanta Hawks played at the Madison Square Garden (MSG), New York fans made it a point to hate on Young. They hurled slogans and derogatory chants for Young.
ADVERTISEMENT
Article continues below this ad
Recently, he made a return to the Madison Square Garden and social media erupted. Trae Young came for a special appearance in an episode of WWE's Friday Night SmackDown. He intervened in a match that added to his notorious image in New York. It seemingly became something everyone is buzzing about in the NBA. Yet, NBA's Most Improved Player for last season, Julius Randle said he did not bat an eye for Trae's return to MSG. Here's what Julius Randle told SportsNet New York about Trae Young.
ADVERTISEMENT
Article continues below this ad
Randle on what he thought about the return of Trae Young to MSG
The Knicks' forward Julius Randle only came across this on social media but he wasn't actively following it.
He said, "Yeah I see it. But honestly, I don't care. Obviously, that's (for) entertainment purposes and all that (stuff), so I let people enjoy it. For me, honestly, I don't care. I honestly didn't even watch it. Knicks fans, they're going to make a big deal out of it – they didn't like it (laughs). But it's all fun and games and hopefully, they enjoyed it."
ADVERTISEMENT
Article continues below this ad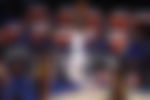 Randle essentially said that maintaining professional integrity is extremely important. While the Knicks fans are notoriously famous for being too aggressive, Randle expected that as a team, the Knicks shouldn't really care about what their fans think of an opposition player.
It's like the time none of the Detroit players, other than Ben Wallace, involved themselves with the Malice in the Palace incident with the Pacers. Considering the aftermath of what happened in Detroit, Randle has correctly chosen to maintain his professional integrity in this matter.
ADVERTISEMENT
Article continues below this ad
Fans tend to go over and beyond the expected behavior from them. While they are extremely enthusiastic about winning, they often become hostile when their team suffers a defeat. And considering the aftermath of aggression when Trae Young's first visit to MSG, Randle is arguably right in maintaining his distance.