'Doesn't Need to Be Awkward': Joel Embiid Opens Up About the Return of Ben Simmons to the 76ers
Published 10/13/2021, 8:00 AM EDT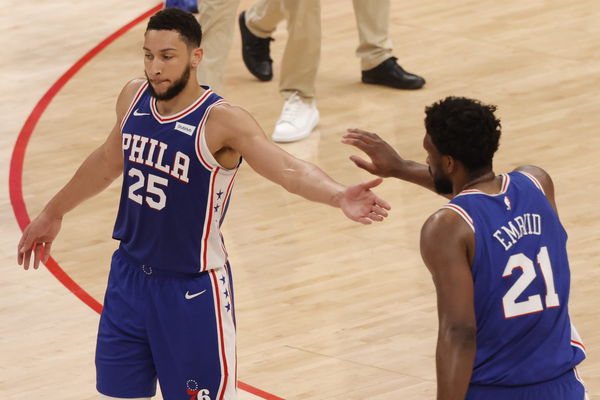 ---
---
The Ben Simmons situation has fascinated the league for a while. Given how terrible the point guard's performance was in the 2021 playoffs, Simmons received a lot of slack. Given the immense amount of criticism he received from Philly fans, reports emerged that Simmons was headed out of Philly.
ADVERTISEMENT
Article continues below this ad
Absent from training camp and from the first two weeks of pre-season, things became increasingly clear that the Australian wanted a move away from the Eastern Conference giants. But the last 24 hours have simply been crazy.
After reportedly having some conversations with Simmons' agent Rich Paul, the 3-time All-Star, to the franchise's surprise, has come back to Philadelphia and is with the team right now. Given how rigid the 24-year-old's stance seemed, this is a very big development on the point guard's future.
ADVERTISEMENT
Article continues below this ad
Joel Embiid reacts to Ben Simmons' return to Philly
Last season when Simmons and Co. lost out to the Hawks, two people called out the Australian, Doc Rivers and Joel Embiid. Embiid who has become the focal point of the process has formed a decent partnership alongside Simmons.
While reports of them having a strained relationships have emerged, Embiid certainly isn't concerned about the reports. In a recent press conference, the Cameroonian reacted to the 3-time All-Star's return to Philly.
ADVERTISEMENT
Article continues below this ad
"Personally, I haven't talked to him since the season ended. Obviously, I tried, but it wasn't successful as a lot of my teammates have. Like I said, it's unfortunate the whole situation happened, but like I say we are a better team with him on the floor. I think there's gonna be some adjustments, but it doesn't need to be awkward. I mean, we are professionals."
Watch This Story
He added, "We want to win. I want to win. So he gives us the best chance to win, so that's what I'm gonna go with. But as far as coming back and all that, we've made a few adjustments and you got to buy in and we're gonna be fine."
ADVERTISEMENT
Article continues below this ad
Embiid and Simmons might not be the best of buddies, but the center knows that Philly have a serious chance to contend for the championship if Simmons stays. Unless and until the 76ers receive another All-Star guard for the Australian, letting go of him for worse trade packages might be a foolish decision. Do you think the 76ers can challenge for the title with Simmons?