Fans React as NBA Analyst Makes a Bizarre Prediction About LeBron James' Role in the NBA 2021-22 Season
Published 09/14/2021, 2:39 PM EDT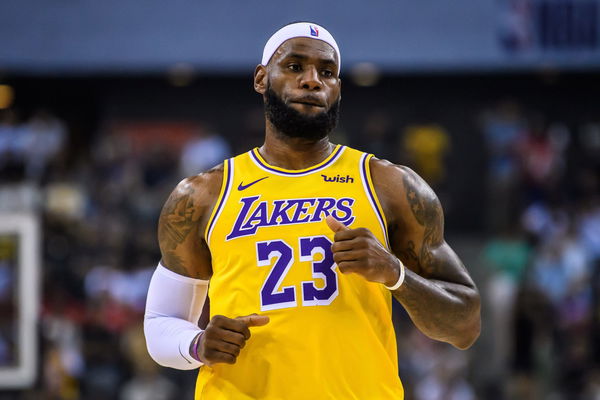 ---
---
With the confirmation of Gasol's trade and buyout, the Los Angeles Lakers are now in a dilemma. While they have a true backup center in Dwight Howard, what they now lack is a true second center with the ability to shoot from beyond the arc. Dwight Howard is a defensive monster, but he is not a perimeter or mid-range threat.
ADVERTISEMENT
Article continues below this ad
Markieff Morris majorly handled this drawback last season, when they faced this same issue. The roster had Drummond and Harrell as backup centers, but neither could shoot consistently from beyond the arc. Now, with the trade of Marc Gasol, some experts say that the Lakers might use LeBron James in the number 5 position. Trevor Lane, who is a Senior NBA Analyst for LakerNation, tweeted about this dilemma for the Lakers.
One interesting bit about the Lakers' roster is they didn't really replace the Markieff Morris role. Now w/out Gasol, they really only have 1 clear C option that can stretch the floor, & that's Davis. Makes me wonder, will we see some LeBron at the 5 in certain small matchups?

— Trevor Lane (@Trevor_Lane) September 13, 2021
ADVERTISEMENT
Article continues below this ad
Of course, with any expert opinion, comes criticism and feedback. The Lakers fans and NBA enthusiasts did not hesitate in replying to his tweet with different reactions.
Lakers fans react to a rumor that LeBron James might play at Center
A part of the fan base believes that the Lakers will go for another big player in the buyout market. They have already signed DeAndre Jordan. This proposition seems far-fetched considering it would mean either Howard or Jordan will have to play the fourth fiddle.
Ennis is a solution actually or maybe someone else

— Jason Moukala (@JasonMoukala) September 14, 2021
Been saying this all summer. Would have loved for them to pick up Hartenstein for that. For all the skillsets that the FO restored from the 20-21 roster (vertical spacing, bench playmaking), we lost other important skillsets, too (wing size, stretch C).

— Mark Melo (@MIM_mmelo) September 13, 2021
Another part of the fan base feels Carmelo Anthony or Trevor Ariza will be a better player for the role of a small-ball center. Many of the fans felt it would be a need-based measure for the Lakers to resort to a small ball game where they need a center who can stretch the floor; Especially against teams using that strategy as well.
Melo has been used as a 5 a few times in portland. When teams go real small,Melo could do .
for instance.
GS vs draymond, Looney

— CognoScent (@Cogno_Scentist) September 14, 2021
Melo can do that from an offensive view, even Ariza.

— 💜💛L.A. FTW💙💙 (@OTLF2022) September 13, 2021
Melo at the 5 to make up for his foot speed…he can battle with bigs on defense but it's still a miss match like Kieff was…but he will absolutely torch any big they try to match with him

— Jerry Johnson III (@jjohn2j3) September 13, 2021
While some fans are outright against the idea of playing LeBron or Carmelo in that role.
Melo should not be playing 5, he and lebron are clear 4s. They need to replace gasol with someone like cousins or hartenstein and ive been saying this from the jump. Which is why i cant understand the Deandre signing. New team different style with 2020 mindset. Will it bite them

— Adonis Creed (@AdonisC01643611) September 13, 2021
ADVERTISEMENT
Article continues below this ad
The conclusion from fan reactions
Had the Lakers retained Morris or Kuzma, they might not have had to face this issue. Kuzma being a 6ft 10 inch forward, can also play as an ideal small-ball center. While the uncertainty revolving around the rumor is obvious, one thing is for certain.
ADVERTISEMENT
Article continues below this ad
LeBron James is a versatile player who can do whatever he needs to make the team succeed. So he will be flexible in his role in the roster as long as he starts the game and the changes yield results.