Former Lakers' Teammate Explains How People Take LeBron James for Granted
Published 09/16/2021, 2:30 PM EDT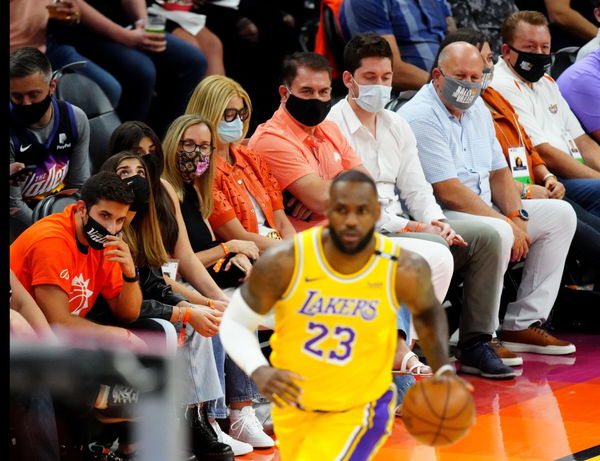 ---
---
Watch This Story
LeBron James is undoubtedly one of the best player in the NBA right now. While many players fizzle out by the age of 36, none of it has stopped Bron as he has stayed at the top of his game.
Affecting the game in multiple ways, LBJ is an absolute all-round beast on the basketball court. While Bron has time and again proved his haters wrong, some NBA fans still aren't convinced that James is good enough and often slam him if he has a poor game.
JaVale McGee explains how people have taken LeBron James for granted
Former teammate JaVale McGee certainly had a firsthand experience of playing with Bron. The veteran forward who won a ring with the Lakers, recently made an appearance at Shannon Sharpe's Club Shay Shay podcast.
Their the Nuggets' center opened up about the greatness of LeBron James and how it is playing alongside LBJ. "When LeBron plays the games he's thinking the game too, and he's low-key thinking for two other players….. So I definitely think like he's more of a player coach than just a player."
McGee continued to speak about Bron. The 3-time champion explained why he thinks that people fail to acknowledge the King's greatness. "I definitely think people take him for granted about how great he really is."
"Just the things that he's done…. Going to nine out of ten and then if you look and if you look at some of those teams, you're like, 'who else did he have to really help him.' He didn't have like any super team…. He had a couple maybe if you count Dwyane Wade…. It was a lot going on for him to still make it to the finals in those years."

McGee certainly raises a fair point here. While many pundits knock LeBron for a disappointing record in the Finals, let alone making it to the Finals is a big feat. Considering that more often the other teams have been the favorite, blaming James for those losses might be unfair.
Not only that, the 36-year-old has had numerous individual accolades as well. Given how he is still one of the top players in the league, LBJ certainly deserves all the praise in the world for maintaining world class quality for such a long time. Do you think LeBron James is taken for granted?