Former NBA Champion Believes Detroit Pistons Passed on Jalen Green Because of This Ridiculous Reason
Published 09/17/2021, 9:36 AM EDT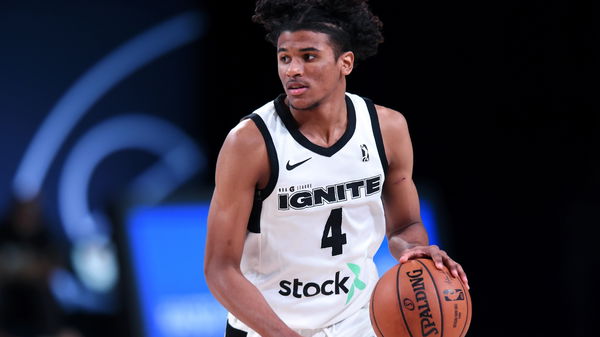 ---
---
Jalen Green and Cade Cunningham are undoubtedly the most exciting picks of this year's NBA draft. While Davion Mitchell won the Summer League MVP, these two showed sparks of why the league drafted them as the top 2. Cade Cunningham was picked number 1 by Detroit Pistons, whereas the Houston Rockets picked Green at number 2.
ADVERTISEMENT
Article continues below this ad
Yet, experts are now making bold predictions that Jalen Green will be the favorite for Rookie of the Year. Were the Detroit Pistons following the sheep mentality in drafting Cade Cunningham? Here's what Former NBA Champion Kendrick Perkins had to say about Jalen Green being predicted as the Rookie of the Year favorite by ESPN's Summer Forecast.
ADVERTISEMENT
Article continues below this ad
While discussing ESPN's Summer Forecast on their show 'The Jump', Richard Jefferson brought up the Rookie of the Year predictions. Clinton Yates immediately spoke to support Cade Cunningham. He essentially said that Cade might not be on the highlight reels as much, but he will be a more impactful player than Jalen Green. Kendrick Perkins could not believe what he was hearing.
Perkins explains why Detroit picked Cunningham over Green
He said, "I know that y'all get the COVID test before walking in the studio, but do y'all get drug tested? Jalen Green is going to be the clear-cut Rookie of the Year and it's not even close. We're talking about a guy that went to the G-league last year and averaged 19 points per game. And by the way, his last playoff game in the G-league, he had a 30-piece wing dinner spicy, or should I say thigh dinner?"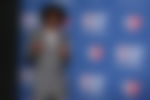 Further, he added, "This guy is NBA-ready at the max, okay? Detroit was willing to take him number one. The only reason I felt like Detroit didn't take him number one was for the simple fact that everybody in the world was saying that Cade needed to take to go number one. Because it was the safest for the Detroit Pistons. But at the end of the day when you talk about a guy, that's a walking bucket. Who could come into this league and average 20? If you average 19 in the G league, you definitely could average 20 to 22 points in the NBA."
Jalen Green and Cade Cunningham in the Summer League
Green only appeared in three Summer League games for the Rockets, but he shot at a high percentage in each of them. He finished the league by averaging 20.3 points per game with a field goal percentage, three-point percentage, and free throw percentage split of 51.4%, 52.6%, and 92.9%, respectively.
ADVERTISEMENT
Article continues below this ad
However, Cade Cunningham's Summer League stats aren't very eye-catching. After a rough start for the Pistons, the No. 1 overall pick returned with two 20-point outings (he missed Detroit's last two games because of calf soreness). In three games, he averaged 18.7 points, 5.7 rebounds, and 1.7 steals while shooting 42.9 percent from the field. Cunningham, a 40 percent 3-point shooter at Oklahoma State, had no issue adjusting to the NBA line, connecting on 50 percent of his 26 shots.
The top two picks, Cade Cunningham and Jalen Green, will face off as early as Week 4 in the new season. Bring it on 🍿

— Sky Sports NBA (@SkySportsNBA) August 23, 2021
Watch This Story
ADVERTISEMENT
Article continues below this ad
This situation is like what happened with the NBA draft class in 2019. They widely regarded Zion Williamson as the most complete prospect of that draft class. Yet, Ja Morant came ahead with the Rookie of the Year award. So while we might consider Cade a more complete player overall, Jalen Green is definitely a better scorer than Cade. Will his "completeness" or "readiness" be enough to stop Jalen from winning Rookie of the Year? Well, experts don't agree with that. But we'll have to wait to find out.