"Girls Left and Right": Dennis Rodman Reveals He Dated Madonna and Cindy Crawford
Published 09/04/2021, 3:31 PM EDT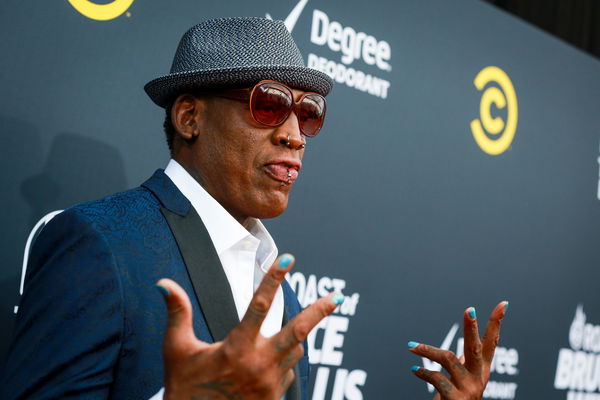 ---
---
The 90s Chicago Bulls were one of the most iconic teams the NBA has ever seen. Led by Michael Jordan, the Bulls featured some of the best players in Scottie Pippen and Dennis Rodman to complete their big three.
While Jordan took care of the offensive end of the floor and locking down other guards, Pippen took care of the playmaking. Rodman on the other hand was a monster in the defensive end. Grabbing boards and menacing opposition's best players with all the pressure, 'the Worm' generally stood out ahead of the competition.
Dennis Rodman reveals his dating history
While the Chicago Bulls were one of the most prolific teams in league history, they were as active off the field. Be it the team partying or the likes of Pippen and Jordan golfing, the Bulls dominated the headlines every time.
But arguably the most polarizing of them all was Dennis Rodman. Rodman who was a 2-time DPOY, had a pretty colourful life off the court. Often spotted with the biggest celebrities and his raw behaviour, the 5-time champion surely stood out of the rest.
'The Worm' who has had quite a history in dating celebs recently made an appearance in the Full Send podcast. There Rodman opened about whom among the big three was the ladies man. "I mean every game I had girls left or right really I didn't care man…"
'The Worm' also opened about his dating history with celebrities like Carmen Electra and Madonna. "Carmen Electra you know, then Madonna, I dated a lot of people, Sharon Stone, I mean all these people, what's her name Cindy Crawford, dated her just a bunch of people man."
Rodman certainly was one of the most polarizing figures in the NBA in the 90s. While he would hound players on the court, off the court Rodman was a party animal. Despite all of these shenanigans the 2-time DPOY stepped up big time in the most crucial moments of the time.
Once Rodman stepped up to the court, he turned up a switch. Hounding on the offensive player and fighting fiercely to grab a rebound, Rodman was one of the key members for MJ and the Bulls' triumph. He might be an erratic figure but there is no doubting his greatness. Where do you rank Dennis Rodman in your defensive players list?