"He's Overrated": Jalen Rose Reveals Why He Made Shocking Michael Jordan Claim
Published 09/13/2021, 10:45 AM EDT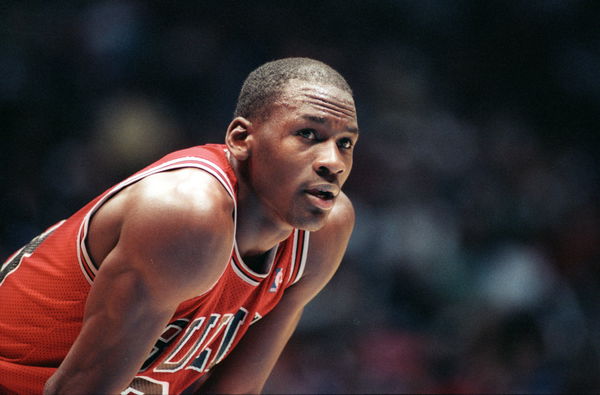 ---
---
Michael Jordan in his incredible NBA career certainly dominated the league. Scoring and defending at an elite level, Jordan's incredible skill-set combined with his elite physicality was simply out of the league and separated him from other stars as well.
Winning an unprecedented six NBA championships and six Finals MVP trophies, MJ's personal accolades speak for themselves. Given that 'His Airness' stepped away from the NBA for a year and a half in his prime, it is absolutely mind-boggling what Jordan could have achieved if his career lasted over 20 years.
Jalen Rose explains why he called Michael Jordan 'overrated' once
MJ was certainly the best player in the 90s. Given how lethal he was, people did not dare to challenge Jordan or talk trash to him. But former Pacers' guard Jalen Rose wasn't afraid to do the same.
In an interview Rose revealed what he said to Jordan during a game. "You're overrated." Rose explained why made the same taunt, "Because part of me, part of my ego makes me think I was a member of the bad boys team, but I actually didn't get a uniform."
"So it was like when they walked off and didn't shake the Bulls hands, when I looked back at that footage, I was on the team. I felt that, that was everything to me, so I rooted against Jordan his whole career."
While Rose was a big Pistons' fan, he certainly admired his favorite team's biggest rival in Jordan. In the same interview he explained why MJ was in a league of his own and will go down as the best to ever play the game of basketball.
"Michael Jordan ain't the best no sorry I lied he's number one, two, three, four and five… Two separate three-peats and he won finals mvp every time… I could give you all kind of stats like him averaging 36 and you know I could give you first team all defense and all and I could give you all of that but what i just said will never be duplicate."
Rose and Jordan certainly had a healthy rivalry. While Rose might talk trash to MJ on the court, he knows who the GOAT is. Whom do you think is the greatest of all time in the NBA?