Houston Rockets 2021-22 NBA Schedule: Key Fixtures against Mavericks, Bucks and more
Published 09/27/2021, 2:06 AM EDT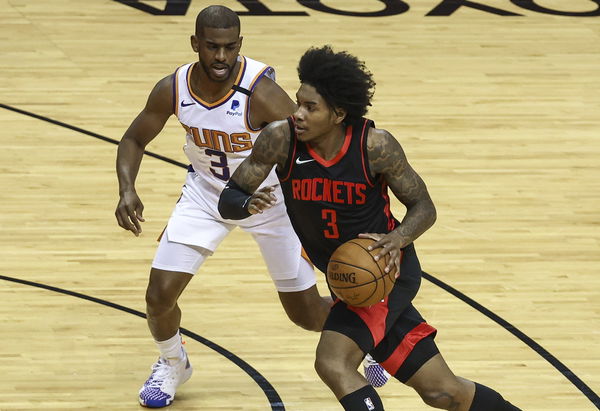 ---
---
After coming off the worst season in their franchise history, the Houston Rockets have faced another setback before the beginning of the regular season. Sources have confirmed that veteran point guard John Wall is on his way out of the franchise. He was the player expected to lead this roster which is stacked with young talent. Even Eric Gordon is open to considering trades taking him out of Houston.
ADVERTISEMENT
Article continues below this ad
However, this roster is sizzling with potential future superstars in the league. Jae Saen Tate, Kenyon Martin Jr, Kevin Porter Jr, and Christian Wood were already bright prospects on the roster. Moreover, they added Jalen Green, Alperen Sengun, Usman Garuba, and Josh Christopher after the draft. So after the departure of James Harden, the franchise could find another franchise cornerstone this season.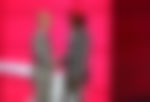 Important match-ups for the Houston Rockets
ADVERTISEMENT
Article continues below this ad
October 26- vs Dallas Mavericks: The Texas rivalry will see it's first fixture in October. State rivals, the game against Houston will give Sterling Brown an opportunity to show the Rockets what they missed out on. The former Rocket, Brown was their best 3 point shooter last season. Yet his stay at Houston was not extended.
October 31- vs Los Angeles Lakers: LeBron James embarrassed the Houston Rockets twice at home, in the beginning of last season. This poor set of games saw James Harden request for a trade. The Lakers are also the most experienced team in the league in the coming season. So the game against the Lakers will be an interesting test for this roster.
November 10- vs Detroit Pistons: This will be the second match-up between the top 2 picks of this year's draft. The first official one was in the NBA Summer League where the Houston Rockets came up in front. However, since Jalen Green will play with a chip on his shoulder, we could see a very intense match-up.
December 10- vs Milwaukee Bucks: Kevin Porter Jr dropped his career-high NBA record-breaking 50 points against the Bucks last season. However, that team was playing without Giannis Antetokounmpo for practically the entire game. So if Porter will successfully display his confidence against this team? Or will Giannis shut him down in this match up? That makes this match-up one to watch out for.
ADVERTISEMENT
Article continues below this ad
Watch This Story: How The World of Hip Hop has Paid Homage to Kobe Bryant Over the Years
Watch This Story
Full Schedule: Pre-season and regular-season games
ADVERTISEMENT
Article continues below this ad
HOME GAME

October 5

 

Washington Wizards

7:00 PM CT (5:30 AM IST)

PRESEASON

AWAY GAME

January 12

San Antonio Spurs

7:30 PM CT (6:00 AM IST)

 

HOME GAME

October 7

 

Miami Heat

9:00 PM CT (7:30 AM IST)

PRESEASON

AWAY GAME

January 14

 

Sacramento Kings

9:00 PM CT (7:30 AM IST)

 

AWAY GAME

October 11

Toronto Raptors

6:00 PM CT (4:30 AM IST)

PRESEASON

AWAY GAME

January 16

Sacramento Kings

5:00 PM CT (3:30 AM IST)

AWAY GAME

October 15

 

San Antonio Spurs

7:30 PM CT (6:00 AM IST)

PRESEASON

AWAY GAME

January 19

Utah Jazz

8:00 PM CT (6:30 AM IST)

AWAY GAME

October 20

 

Minnesota Timberwolves

7:00 PM CT (5:30 AM IST)

AWAY GAME

January 21

Golden State Warriors

9:00 PM CT (7:30 AM IST)

 

HOME GAME

October 22

 

Oklahoma City Thunder

7:00 PM CT (5:30 AM IST)

HOME GAME

January 24

Philadelphia 76ers

7:00 PM CT (5:30 AM IST)

HOME GAME

October 24

 

Boston Celtics

6:00 PM CT (4:30 AM IST)

 

HOME GAME

January 25

San Antonio Spurs

7:00 PM CT (5:30 AM IST)

AWAY GAME

October 26

 

Dallas Mavericks

7:30 PM CT (6:00 AM IST)

 

HOME GAME

January 28

Portland Trail Blazers

7:00 PM CT (5:30 AM IST)

HOME GAME

October 28

 

Utah Jazz

7:00 PM CT (5:30 AM IST)

HOME GAME

January 31

Golden State Warriors

7:00 PM CT (5:30 AM IST)

AWAY GAME

October 31

 

Los Angeles Lakers

9:30 PM CT (8:00 AM IST)

HOME GAME

February 2

Cleveland Cavaliers

7:00 PM CT (5:30 AM IST)

AWAY GAME

November 2

 

Los Angeles Lakers

9:30 PM CT (8:00 AM IST)

AWAY GAME

February 4

San Antonio Spurs

7:30 PM CT (6:00 AM IST)

 

AWAY GAME

November 4

 

Phoenix Suns

9:00 PM CT (7:30 AM IST)

 

HOME GAME

February 6

New Orleans Pelicans

6:00 PM CT (4:30 AM IST)

 

AWAY GAME

November 6

 

Denver Nuggets

4:00 PM CT (2:30 AM IST)

AWAY GAME

February 8

New Orleans Pelicans

7:00 PM CT (5:30 AM IST)

AWAY GAME

November 7

 

Golden State Warriors

7:30 PM CT (6:00 AM IST)

 

HOME GAME

February 10

Toronto Raptors

7:00 PM CT (5:30 AM IST)

HOME GAME

November 10

 

Detroit Pistons

6:30 PM CT (5:00 AM IST)

AWAY GAME

February 14

Utah Jazz

8:00 PM CT (6:30 AM IST)

HOME GAME

November 12

 

Portland Trail Blazers

7:00 PM CT (5:30 AM IST)

AWAY GAME

February 16

Phoenix Suns

8:00 PM CT (6:30 AM IST)

HOME GAME

November 14

 

Phoenix Suns

6:00 PM CT (4:30 AM IST)

 

AWAY GAME

February 17

Los Angeles Clippers

9:30 PM CT (8:00 AM IST)

AWAY GAME

November 15

 

Memphis Grizzlies

7:00 PM CT (5:30 AM IST)

AWAY GAME

February 25

Orlando Magic

6:00 PM CT (4:30 AM IST)

 

AWAY GAME

November 17

 

Oklahoma City Thunder

7:00 PM CT (5:30 AM IST)

HOME GAME

February 27

Los Angeles Clippers

6:00 PM CT (4:30 AM IST)

 

AWAY GAME

November 20

 

New York Knicks

4:00 PM CT (2:30 AM IST)

HOME GAME

March 1

Los Angeles Clippers

7:00 PM CT (5:30 AM IST)

AWAY GAME

November 22

 

Boston Celtics

6:30 PM CT (5:00 AM IST)

HOME GAME

March 2

Utah Jazz

7:00 PM CT (5:30 AM IST)

HOME GAME

November 24

 

Chicago Bulls

7:00 PM CT (5:30 AM IST)

AWAY GAME

March 4

Denver Nuggets

8:00 PM CT (6:30 AM IST)

HOME GAME

November 27

 

Charlotte Hornets

7:00 PM CT (5:30 AM IST)

HOME GAME

March 6

Memphis Grizzlies

6:00 PM CT (4:30 AM IST)

 

HOME GAME

November 29

 

Oklahoma City Thunder

7:00 PM CT (5:30 AM IST)

AWAY GAME

March 7

Portland Trail Blazers

6:30 PM CT (5:00 AM IST)

AWAY GAME

December 1

 

Oklahoma City Thunder

7:00 PM CT (5:30 AM IST)

HOME GAME

March 9

Los Angeles Lakers

7:00 PM CT (5:30 AM IST)

HOME GAME

December 3

 

Orlando Magic

7:00 PM CT (5:30 AM IST)

HOME GAME

March 11

Dallas Mavericks

7:00 PM CT (5:30 AM IST)

HOME GAME

December 5

 

New Orleans Pelicans

6:00 PM CT (4:30 AM IST)

 

AWAY GAME

March 13

New Orleans Pelicans

6:00 PM CT (4:30 AM IST)

 

HOME GAME

December 8

 

Brooklyn Nets

7:00 PM CT (5:30 AM IST)

HOME GAME

March 16

Phoenix Suns

7:00 PM CT (5:30 AM IST)

HOME GAME

December 10

Milwaukee Bucks

7:00 PM CT (5:30 AM IST)

 

HOME GAME

March 18

Indiana Pacers

7:00 PM CT (5:30 AM IST)

AWAY GAME

December 11

 

Memphis Grizzlies

7:00 PM CT (5:30 AM IST)

 

HOME GAME

March 20

Memphis Grizzlies

2:30 PM CT (1:00 AM IST)

AWAY GAME

December 13

 

Atlanta Hawks

6:30 PM CT (5:00 AM IST)

 

HOME GAME

March 21

Washington Wizards

7:00 PM CT (5:30 AM IST)

AWAY GAME

December 15

 

Cleveland Cavaliers

6:00 PM CT (4:30 AM IST)

 

AWAY GAME

March 23

Dallas Mavericks

7:30 PM CT (6:00 AM IST)

 

HOME GAME

December 16

 

New York Knicks

7:00 PM CT (5:30 AM IST)

AWAY GAME

March 25

Portland Trail Blazers

9:00 PM CT (7:30 AM IST)

 

AWAY GAME

December 18

 

Detroit Pistons

11:00 AM CT (9:30 PM IST)

 

AWAY GAME

March 26

Portland Trail Blazers

9:00 PM CT (7:30 AM IST)

 

AWAY GAME

December 20

 

Chicago Bulls

7:00 PM CT (5:30 AM IST)

 

HOME GAME

March 28

San Antonio Spurs

7:00 PM CT (5:30 AM IST)

AWAY GAME

December 22

 

Milwaukee Bucks

7:00 PM CT (5:30 AM IST)

 

HOME GAME

March 30

Sacramento Kings

7:00 PM CT (5:30 AM IST)

AWAY GAME

December 23

 

Indiana Pacers

6:00 PM CT (4:30 AM IST)

 

HOME GAME

April 1

Sacramento Kings

7:00 PM CT (5:30 AM IST)

AWAY GAME

December 27

 

Charlotte Hornets

6:00 PM CT (4:30 AM IST)

 

HOME GAME

April 3

Minnesota Timberwolves

6:00 PM CT (4:30 AM IST)

 

HOME GAME

December 28

 

Los Angeles Lakers

7:00 PM CT (5:30 AM IST)

 

AWAY GAME

April 5

Brooklyn Nets

6:30 PM CT (5:00 AM IST)

HOME GAME

December 31

 

Miami Heat

6:00 PM CT (4:30 AM IST)

 

AWAY GAME

April 8

Toronto Raptors

6:30 PM CT (5:00 AM IST)

HOME GAME

January 1

Denver Nuggets

7:00 PM CT (5:30 AM IST)

 

HOME GAME

April 10

Atlanta Hawks

TBD

AWAY GAME

January 3

Philadelphia 76ers

6:00 PM CT (4:30 AM IST)

 

AWAY GAME

January 5

Washington Wizards

6:00 PM CT (4:30 AM IST)

 

HOME GAME

January 7

Dallas Mavericks

7:00 PM CT (5:30 AM IST)

 

HOME GAME

January 9

Minnesota Timberwolves

6:00 PM CT (4:30 AM IST)