Houston Rockets Might Soon Lose Another Key Star
Published 09/17/2021, 10:58 PM EDT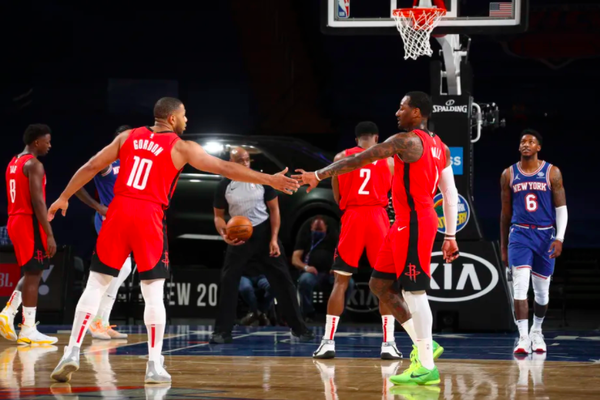 ---
---
Ever since James Harden has left the Houston Rockets, the franchise has started a complete rebuilding process. With that end goal in mind to find a new franchise cornerstone, the Rockets seemingly tanked last season in order to safeguard the draft pick they had conditionally traded to the OKC. But Jalen Green, who was drafted because of that tanked season, cannot revive this franchise alone.
ADVERTISEMENT
Article continues below this ad
At least, not in his first year. Now, since the beginning of free agency, one major incident was that the Rockets have confirmed the imminent departure of John Wall, one of the last veterans on this roster. And now we have received information from trusted sources that Eric Gordon could also be on his way out of the franchise.
He will be a great mentor! A very reliable person, trustworthy. Absolutely!

— Big B (@Annette07850247) September 17, 2021
ADVERTISEMENT
Article continues below this ad
Houston Rockets could lose another veteran
The Athletic's Kelly Iko has reported that while Gordon has not put in a formal trade request, he is open to discussing a move to greener pastures. By this, we mean Gordon is uncertain about his future with the Rockets at the moment. In his exclusive, Kelly Iko analyzed the role that Gordon could play in the roster for the long run. Like being a veteran coming off the bench who helps develop the youth of the franchise.
And several fans on Twitter also agree that Gordon is extremely reliable and trustworthy. After all, in his 5 years so far with the Rockets, the 32-year-old has provided a steady offense every season. Except for the last two seasons, which were plagued with injuries for Gordon, he averaged over 16 points per game.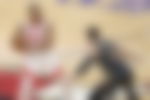 A career 36.8% shooter from beyond the arc, Gordon can be the leader on the court whose experience helps the team win games. If Gordon decides to move, it is now or never. Because while any player would be excited to wait to see the growth of the four exceptional draft picks for the Rockets and more of their strong young core, Gordon has a fixed amount of time left before his prime ends. That means he has a limited amount of time to search for more well-built teams which he could help win the league.
ADVERTISEMENT
Article continues below this ad
What does this mean for the Rockets?
Watch This Story
Therefore, the choice for Gordon is simple. If he leaves, he will have to join a strong contending team. If he leaves for another rebuilding team, then there's no glory and silverware chance left in his career.
ADVERTISEMENT
Article continues below this ad
However, if he chooses not to leave and helps this roster grow, who knows? Maybe in two or three years, they will become a team that contends for the title. One thing that is for certain now is that the Rockets want him to stay. So unless his own ambition drives him out of Houston and he still does not win, he is the only one to blame then.