How the Feud Between Lakers Teammates Russell Westbrook and Rajon Rondo Started? Everything You Need to Know
Published 09/08/2021, 11:13 PM EDT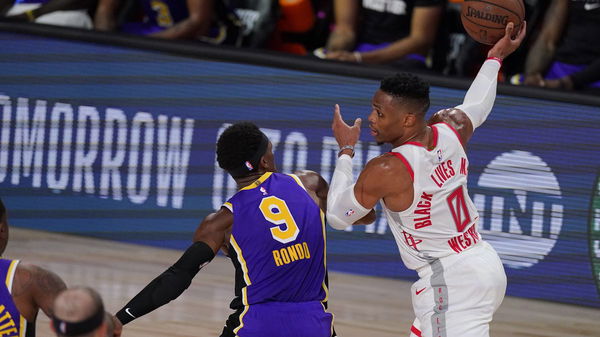 ---
---
Los Angeles Lakers have built a monstrous roster for the coming NBA season. They have assembled a 'super team' that can fight for the championship once again. In a bid to raise their championship hopes, the Lakers added Rajon Rondo, Russell Westbrook, and 11 others to their roster.
ADVERTISEMENT
Article continues below this ad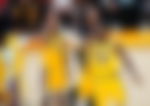 Any team needs coordination among their players on the court to win titles. If the players have a good relationship off the court, it's easier for them to combine well on the court as well. However, Lakers' fresh additions, Rajon Rondo and Russell Westbrook, have engaged in a beef on several occasions in the past. The duo didn't have a good relationship before coming to the Lakers.
ADVERTISEMENT
Article continues below this ad
The feud between Los Angeles Lakers duo Russell Westbrook and Rajon Rondo
The exact start of the feud between the duo isn't known. However, their beef became the talking point last year, when Rajon's brother had an argument with Westbrook. In the Orlando bubble, Westbrook and Rondo's brother, William, engaged in an argument during the Lakers vs Rockets playoff game 5.
Rajon Rondo e Russell Westbrook no mesmo time.

Ano passado, durante um dos jogos de Playoffs na bolha, no meio do jogo, Westbrook discutiu com o irmão do Rondo que estava na arquibancada💀pic.twitter.com/S7l0DCipB9

— NBA do Povo 🏀🇧🇷 (@NBAdoPovo) August 28, 2021
Lakers guard Rajon Rondo says his brother, William, called Russell Westbrook "trash" and nothing more and gave him the "Damian Lillard" wave when the Rockets star asked what he said. Rondo said his bother didn't say anything more and he is hopeful there will be no discipline.

— Marc J. Spears (@MarcJSpears) September 13, 2020
Despite the bio-bubble, Rondo's brother was allowed to watch the game from the stands as a 'family member'. However, following his verbal argument with Westbrook, he was ejected. After the incident, Russell described the whole incident.
"Apparently, I guess because (Rajon) Rondo was talking s**t, (William) decided he wanted to hop in, too," Westbrook said.
Westbrook and Rajon Rondo were involved in a beef once again in January 2021. Rondo was an Atlanta Hawks player and Russell Westbrook played for the Wizards. When the Hawks faced the Wizards in January last season, Westbrook was ejected as he picked his 2nd technical foul. Before that, Westbrook and Rajon Rondo got their first technical foul in the first quarter.
Despite being ejected with five minutes remaining, Westbrook was the points leader for the Wizards in the game. However, after the Wizards' loss against the Hawks, Westbrook blamed no one but himself for the ejection. Russ opened up and said that he 'stooped' to Rajon Rondo's level and it eventually led him to get ejected during the game.
"I mean, honestly it's more on me. I can't allow myself just to stoop down to anybody's level," Westbrook said.
ADVERTISEMENT
Article continues below this ad
In a recent interview, Rondo has revealed that he wants to put everything into the past. As Rondo will most likely back up Westbrook in his point guard position, a good relationship off the court will surely help the duo and the team as well.
ADVERTISEMENT
Article continues below this ad
The duo of Rajon Rondo and Russell Westbrook will try to combine with LeBron and Anthony Davis in the coming season to help the Lakers win their 18th NBA championship.