How Will Klay Thompson's Return From Injury Affect Golden State Warriors?
Published 09/09/2021, 11:34 PM EDT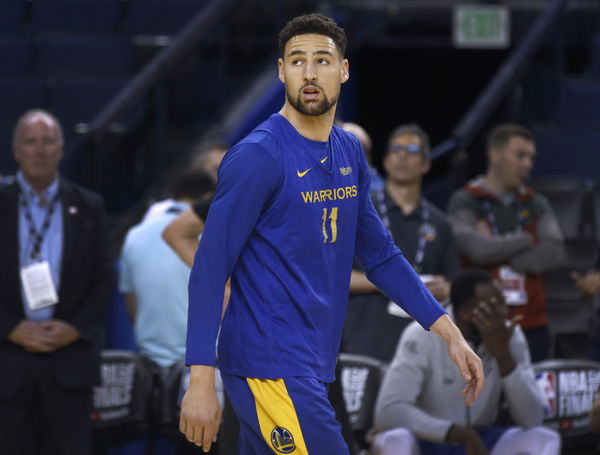 ---
---
The Golden State Warriors last season were a pretty new look team led by Stephen Curry. With many players from their last finals run leaving, the Dubs were missing many stars. But perhaps the biggest miss of them all was Klay Thompson.
Thompson who had suffered from an ACL tear in the 2019 Finals against the Raptors was due to make his return in the 2020-21 season. But tragedy struck again as the 31-year-old suffered from yet another long-term injury as he had an Achilles injury.
What to expect from Klay Thompson's return to Golden State Warriors?
After missing two years of action, Thompson is set to make his return to the court in the upcoming season. Aiming to make his return in the month of December, fans can't wait to see the 3-time All-Star back on court.
But given that Thompson is coming off a 2-year absence, what to expect from the two-way force. In a recent episode of the Jump, former Nigerian women's team player and analyst Ros Gold-Unwude spoke about the 30-year-old and he might impact the Warriors.
"No matter what version you get of Klay you're going to get instantaneous spacing on the court because the defense has to respect his shot. The good news is that you know his offense wasn't necessarily ever about incredible athleticism and explosion, it was more about his movement without the ball."
Unwude later explained how his long-term injuries might affect Thompson in the defensive end. "What made him so dynamic was that he played both sides of the ball he was a brilliant defender right."
"That's where like an ACL you know can possibly affect lateral movement. So like defensively that might be something that is slower to come back and I do feel like he gets a lot off of the defensive side of the ball."
The Warriors will be delighted to see Thompson putting in the work in the off-season, Multiple videos of Klay knocking down shots have already emerged and by the looks of it, we might see the Splash Brothers tearing apart defenses yet again.
If Thompson returns to his prime form, their is no doubt that Stephen Curry and the Dubs will become an instant contender. But will the 3-time All-Star be back to his full form?