'If It Was LeBron, He'd Have 30 More Assists': Twitter Reacts After NBA Snatches Triple Double Away From Rockets Player
Published 12/01/2021, 1:01 AM EST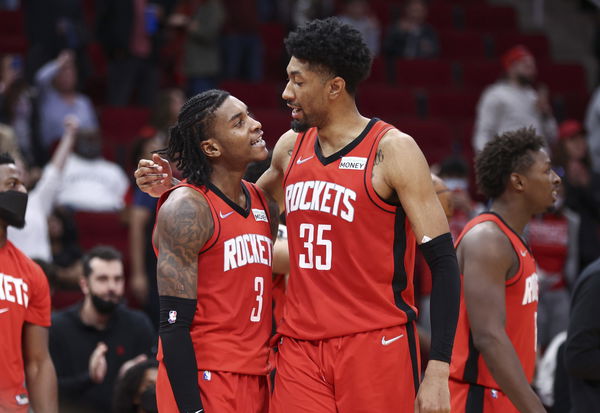 In a season struck with woes for the Houston Rockets, yet another news dashes their brief moments of joy. The NBA has confirmed that Kevin Porter Jr's (KPJ) triple double has been called off. Why? Since it was clear in the viral footage of his final rebound that Sengun could have easily gathered the ball. Instead, he tipped it to KPJ, who was a single rebound away from his first career triple-double in the NBA. Since Sengun's final tip was a controlled tip, the league changed the stats and made it his rebound.
This had NBA fans raging. Especially Houston fans who have already had a tough time finding key takeaways to be optimistic about in the rebuilding process for their team. This is how they expressed their rage on Twitter after the league credited Sengun with the final rebound.
After review, league confirms Kevin Porter Jr's 10th rebound last night — with ~1:00 left to clinch Porter's triple-double — will instead be credited to Alperen Sengun as a controlled tip. Sengun + teammates were trying to help Porter get the triple-double.

— Zach Lowe (@ZachLowe_NBA) December 1, 2021
ADVERTISEMENT
Article continues below this ad
NBA fans enraged as league takes away Kevin Porter Jr's triple double
it took the nba 4 years to denounce kevin durants blatant ass step out of bounds against rockets but it took them like 24 hours to change a stat from a concluded game, crazy https://t.co/oYDxxUFwaX

— burner burner (@dangerburner) December 1, 2021
A 21 yr old records a triple double against a franchise that shamelessly manipulated "rebounding" with Westbrook to chase TDs, and they take it away the next day https://t.co/RDiqFn9E6V

— Westheimer Wildin (@WestheimerWild1) December 1, 2021
What does this mean for Kevin Porter Jr and the Houston Rockets?
After last night's comprehensive victory over a struggling OKC, the league took away one achievement from KPJ. While anybody's confidence might take a hit by this, KPJ should use this as a reason to come back stronger. Last season he dropped 50 points and 10 assists on the current reigning champions, Milwaukee Bucks.
He beat LeBron James' record as the youngest player to have 50 points and 10 assists in an NBA game. This shows that Kevin Porter Jr. is on the right track to put his name among the greats of the league.
However, he needs to work on his struggles on the field. While there has been a huge transition in his role from last season to this one, he cannot let that impact the efficiency with which he shoots the ball.
ADVERTISEMENT
Article continues below this ad
Kevin Porter Jr. (50 PTS, 11 AST) is the youngest player in NBA history (20 years, 360 days) with 50+ points and 10+ assists in a game.

LeBron James (50 PTS, 10 AST on March 5, 2008) was the youngest previously, at 23 years, 66 days. pic.twitter.com/HT3lWmxA6r

— NBA History (@NBAHistory) April 30, 2021
Until last season, KPJ was purely a shooting guard and seldom used as a backup for Wall. However, with Wall's exit from the team as a starter, KPJ has completely taken over his role. With Wall currently fighting to make his way back into the starters of the team, Porter needs to maintain his consistency and improve his efficiency to avoid losing his starting spot.
ADVERTISEMENT
Article continues below this ad
Watch This Story: LeBron James, Michael Jordan & Other NBA Stars React to Fashion Designer Virgil Ablohs Sudden Demise