Isiah Thomas Once Revealed How Chicago Bulls Changed in the 90s: "Michael Jordan Started Believing in His Teammates. During the 80s, It Was All About Mike"
Published 12/05/2021, 2:30 PM EST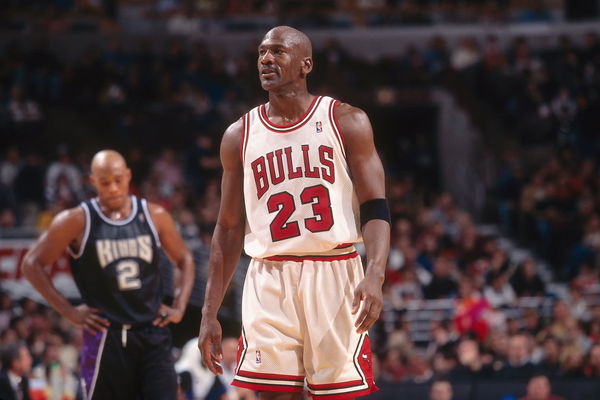 Michael Jordan faced a lot of stars in the league during his time. However, it is a widely known fact that he often engaged in physical tussles with the Bad Boy Pistons. Specifically, he had a personal feud with Isiah Thomas. And for Isiah as well, Michael was always the one to watch out for. So, he monitored Michael's game from time to time to analyze his strengths and weakness. One big change that he noticed in that seven-year period was that Michael's style of play had a major change from the 80s entering the 90s. Here's a look at him explaining his observations.
NBA legend reveals what changed Jordan's game from the 80s to the 90s
ADVERTISEMENT
Article continues below this ad
In an old interview with Ernie Johnson, Thomas spoke about what it was like playing against the Bulls. He said, "When they finally turned the corner and became champions, it wasn't so much, the Bulls it was their mindset. I thought when Phil Jackson came and replaced Doug Collins, I thought he totally changed the mindset, the mental makeup of the team." 
While talking about the change in Michael Jordan, he said, "Jordan started believing more in his teammates. During the 80s it was all about Mike you know" According to Isiah, the primary reason for that was, "Once Phil got to the team, he started sharing the ball a little bit more, they went to the triangle. And they were strong enough mentally to get to their fourth and fifth option on every play." 
Consequently, Isiah explained how this made them a dynasty "He trust and bought into his teammates as opposed to him trying to do it himself. And once they became that type of team, you know they became the dynasty." 
The Chicago Bulls drafted Michael Jordan in 1984 and it took him seven years to win his first NBA championship. For almost every rookie, that transition period from being a rookie to becoming a veteran is crucial in their growth. For Michael, it involved a big change in his team's style of play. And we can attribute a lot of that to the legendary coach, Phil Jackson.
ADVERTISEMENT
Article continues below this ad
Did Michael Jordan really start trusting his teammates?
While there is footage of Michael Jordan admitting that he would always be the one taking the last shot, his actions on the court showed otherwise. Steve Kerr's championship-winning shot in 1997 or John Paxson's game-winner in 1991. Jordan surely knew when it was the right time to pass the ball. So is Isiah right? Do you think Phil Jackson made Jordan a team player? Let us know what you think.
ADVERTISEMENT
Article continues below this ad
Watch This Story: Six Unbelievable Tom Brady Stats That No One Can Touch