'It's Hard': Robert Horry Reveals His Experience of Playing With Kobe Bryant
Published 09/13/2021, 12:30 PM EDT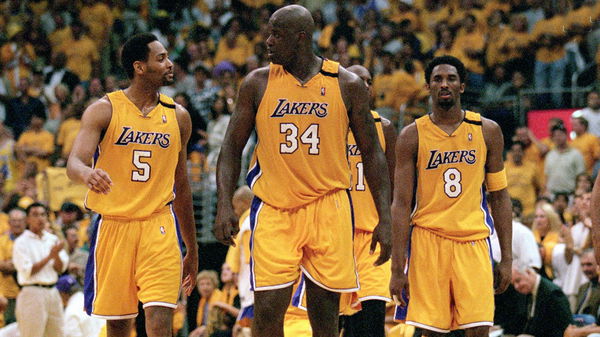 ---
---
Kobe Bryant is undoubtedly the greatest player in Lakers' history. With his incredible scoring and ball-handling skills, coupled with his clamped-down defending, Bryant was a freak of nature on the basketball court.
ADVERTISEMENT
Article continues below this ad
Often the most intense player out there, Kobe never shied away from any challenge. Be it scoring a series-altering game winner or locking down other guards, Kobe had every trick in the book. His incredible skillet also led to a stacked trophy cabinet as he won 5 NBA championships, 1 MVP trophy and a scoring title.
ADVERTISEMENT
Article continues below this ad
Robert Horry explains how it was to play alongside Kobe Bryant
The 2000s Lakers were arguably one of the best teams the NBA has ever seen. With the duo of Kobe Bryant and Shaquille O'Neal leading, the Purple and Gold were one of the most successful teams in the league. While Shaq and Kobe did the heavy lifting, the Lakers did have an elite supporting cast of players like Derek Fisher and Rick Fox.
Another big name in this fabled list is Robert Horry. Known as 'big shot bob,' Horry has hit some of the biggest shots in NBA history. Playing with the Lakers for seven long years, Horry certainly played an incredible number of games with Kobe Bryant.
ADVERTISEMENT
Article continues below this ad
In a recent appearance in his podcast, the 7-time NBA champion revealed his experience of playing alongside 'Black Mamba'. "For Meta to hit that shot for me to hit my shot and when you sit back and know Kobe gonna take 25 plus shots, you might get in two one game, 6 one game, 12 the next game so it's hard."
Horry certainly had sacrificed a lot for his role as the clutch shooter in the team. While his rookie season was impressive, his numbers did not increase in the next few seasons as his role in the team changed. His numbers took a massive dip in the three seasons the Lakers won a championship.
ADVERTISEMENT
Article continues below this ad
While his shooting was elite, Horry had to prioritize defense. In these three seasons, the 7-time NBA champion attempted around 5 shots per game and averaged 5.9 points along with 4.8 rebounds and 2 assists.
Superstars like Kobe and Shaq might take most of the plaudits, role players like Horry who sacrifice should be given their due as well. Do you think role players in the NBA get the deserved appreciation?