"It's Like Having a Paint Brush" Michael Jordan's Special Ability He Learned From Dr. J
Published 08/25/2021, 3:10 PM EDT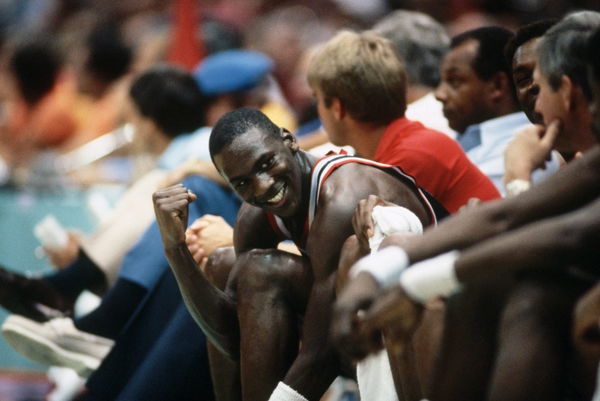 ---
---
If there was a Mt.Rushmore for basketball, Michael Jordan has done enough to have his face on it twice. The two 3-peats with a couple of retirements throughout his career show that he was well aware of his strengths. His overall understanding of how his body works combined with his mentality and focus on the sport put him in a league of his own. His self-awareness was class apart.
ADVERTISEMENT
Article continues below this ad
He has never hesitated in saying that in the most clutch moments of the game; he trusts himself more than anyone else. And he has done enough in his career to back that claim. Two of his biggest strengths are his ball control and shooting ability, especially from the midrange. The key tool he uses to execute those strengths is his hand. And as expected, he is very aware of the mechanics of his hand. Michael Jordan and the mechanics of his hand
ADVERTISEMENT
Article continues below this ad
In an interview with Gene Siskel in 1996, Gene asked Michael Jordan "What do you see when you look at this hand..?" When Michael clarified what he meant by that, without hesitation he talked about the specific parts of his hand. He describes how the space between his thumb and the index finger on his right hand. He says that Julius Erving (Dr. J) was the first person who he saw using this skill, and he learned from his ball handling.
ADVERTISEMENT
Article continues below this ad
Michael described that ability and said, "It's like having a paint brush". He knew the exact mechanics of his hand. Moreover, Jordan could confidently say that he knew the quality of his shot based on where he released it from. If he released the ball from the thumb and the first two fingers, he knew the shot was good. However, if he released it from the last two fingers, then he knew he was wrong somewhere.
ADVERTISEMENT
Article continues below this ad
He hilariously adds that as a joke he tells people his hand has Ms (from the line on his hand) and that's how he got his name. His discipline, knowledge, athleticism and sense of humor indeed made him a legend of the game.