"Kobe Bryant Is A Legitimate Assassin": Legendary Coach on Differences With Michael Jordan
Published 09/20/2021, 12:12 AM EDT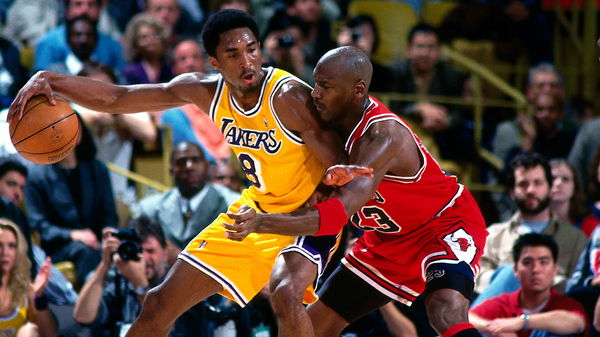 ---
---
Watch This Story
The NBA might have seen multiple superstars but hardly any of them could replicate the impact Kobe Bryant and Michael Jordan had on the game of basketball. Embodiment of the winning culture, Mamba and MJ were certified winners.
Be it carrying their team on both ends of the floor or leading their respective teams to multiple NBA championships, the duo did it all. Although the two played in two different eras, their was an uncanny similarity between their games.
Jim Cleamons explains the difference between Kobe Bryant & Michael Jordan
Bryant who grew up as a Jordan fan boy, seemed like a mini MJ during his initial years in the NBA. Mamba even admitted that he copied many of 'his Airness' moves and the similarity was visible. While many could determine how similar they only some can tell how the two stood out from one another.
Legendary coach Jim Cleamons certainly makes the list. An assistant coach for MJ's Bulls and the three-peat Lakers, Cleamons saw the best of Kobe and Jordan. The coach in an interview had explained different Mamba and MJ were.
"People say they're cut from the same cloth, they are indeed cut from the same cloth….. The difference is the fact that Kobe is a legitimate assassin, he's a sniper.., he wants the ball he wants to score every time he is tested."
Cleamons later explained how a better supporting cast meant that Jordan became a more willing passer. "I think as Michael grew and realized that he did have help he was willing to get his help involved with an aspect of the team philosophy.… Ultimately, they're both two fantastic athletes."
This certainly highlights how different of a time Kobe and Jordan enjoyed in the NBA. While Jordan did start off as a dynamic scorer who wanted to score his way through to win games, he eventually got some players like Scottie Pippen whom he could trust to make shots.
In case of Kobe though apart from his three-peat tenure, Bryant did not have a constant second option like Pippen. While Kobe did have all the playmaking skills, he was often the go-to scorer. This meant that the Lakers' depended on Kobe's free scoring to defeat opponents.
Irrespective of their different approaches, the duo ended up with a filled trophy cabinet. The duo will go down as two of the best to ever play the game of basketball. Who according to you is the GOAT?