Kwame Brown Claims Giannis Is the Guy to Stop Stephen Curry, Not Lebron James: "No Way I Would Want to Play Against Milwaukee Bucks"
Published 01/17/2022, 11:30 AM EST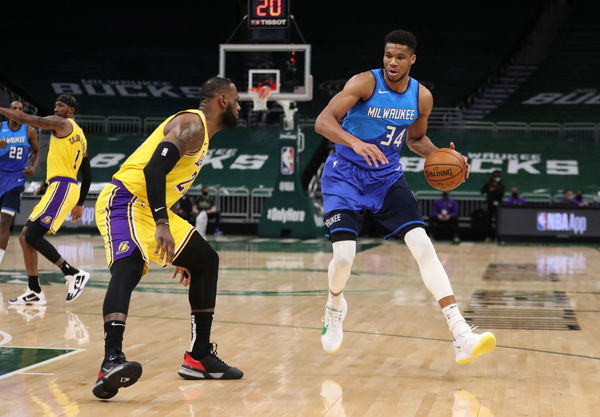 Defending NBA champions Milwaukee Bucks are currently 27-18 in the Eastern Conference. While this may not be as good as some other top teams in the league, they have been able to carve out important wins. Stephen Curry and LeBron James have been insane this season, but Giannis Antetokounmpo has been delivering in the big games too, making his case to be included in the MVP conversation. Former Lakers player Kwame Brown recently reiterated the threat that the Giannis led Bucks pose.
Milwaukee Bucks currently sit 4th in the eastern conference table with a winning% of 0.600. They recently registered an important victory as they beat Golden State Warriors at the Fiserv Forum. This game was dubbed as the 'Giannis vs Steph' fixture and Giannis came up on top with his 30-point performance against the Warriors. As he stepped up against the Warriors, his name has started being mentioned in the MVP conversations.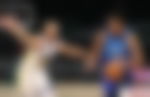 LeBron James has made his case for the MVP award as well, but the Lakers aren't performing at the top level this season. While James' Lakers couldn't stop the Warriors this season, Giannis manage to do it with his Bucks side. Former NBA star Kwame Brown heaped massive praise on Giannis and said that he is the 'guy' to stop the Warriors.
ADVERTISEMENT
Article continues below this ad
WATCH THIS STORY: 3 Mistakes Michael Jordan Made After Joining Washington Wizards that Ruined the Team
Kwame Brown thinks Giannis' Bucks can stop Stephen Curry's Warriors, not LeBron James
Kwame Brown recently shared his thoughts on the Bucks vs Warriors game. He praised the Bucks side and explained how they managed to beat the Warriors. He also issued a warning to other teams facing Giannis and the Bucks.
"LeBron and all those guys, they coming down shooting three after three trying to match Golden State. That ain't gonna work, that's gonna lead to long transition shots. What Milwaukee did, that's a lot of pressure they put on your boy. They driving to that basket; they driving and kicking and they kick out. So they get either wide-open threes or they're getting a dunk. That's hard to deal with," Kwame Brown said.
ADVERTISEMENT
Article continues below this ad
"No way I would want to play against Milwaukee Bucks. They get into that rack and if you stop the rack, you gotta collapse in. They're kicking out the wide-open shooters. So, good luck guarding them in the playoffs. Good luck to any team that gets a hold of that monster."
Giannis Antetokounmpo has been in incredible form this season. He is currently third in the NBA scoring charts behind Kevin Durant and Trae Young.
ADVERTISEMENT
Article continues below this ad
LeBron James, at the age of 37, is having another insane season with the Lakers. However, the Lakers have been poor this season and are currently eighth in the Western Conference. While Giannis has a good chance of making it to the playoffs, LeBron's chances are meek, looking at the Lakers' current woes.