LeBron James Expresses His Frustration Over Former Lakers Veteran's Move to Mavericks
Published 08/25/2021, 12:00 AM EDT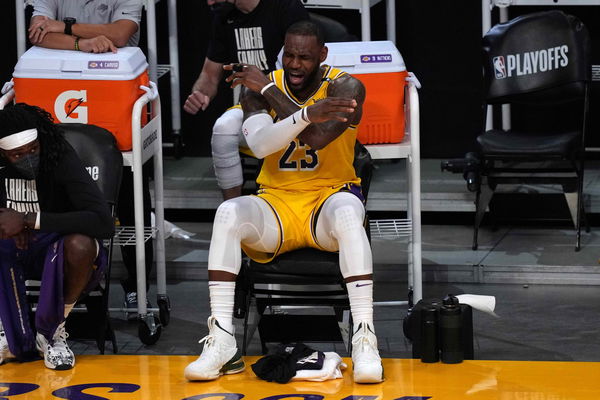 ---
---
It looks like veteran Jarden Dudley is headed to the Dallas Mavericks as an assistant coach. The now-former Los Angeles Lakers star revealed and confirmed the rumors on social media, with fans, and others congratulating him for the same. LeBron James has responded to an NBA rumor on Twitter, reacting about Dudley's move to the Mavericks.
ADVERTISEMENT
Article continues below this ad
Before the news was confirmed, news outlets and fan accounts were reporting a possible move for the 36-year-old forward. James was one of the few people who reacted immediately, keeping his reaction as candid as one would expect him to.
Excuse my language but still one hurt!! For many reasons that you wouldn't understand. 🤦🏾‍♂️🤦🏾‍♂️🤦🏾‍♂️🤦🏾‍♂️🤦🏾‍♂️

— LeBron James (@KingJames) August 24, 2021
ADVERTISEMENT
Article continues below this ad
Replying to a tweet, James ended up congratulating Dudley if the news was true, cursing out on the social media app. "Excuse my language but still one hurt!! For many reasons that you wouldn't understand," he wrote, as fans in return turned their attention to James' tweets.
Most refused to believe that James did not know about what went down and wondered if it was just confirmed.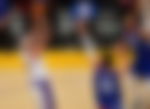 Fans react to LeBron James' tweet
"Bron acting like he didn't get this news first," one fan wrote, while another added that James should maybe just call Dudley and confirm. Others wondered if James was mad at the Lakers front office for letting Dudley go. Even if he came off the bench, Dudley's contribution and experience were valuable to the team.
He's gonna request a trade to the Mavs, then he and Luka are gonna push for a third star like Dame or Jokic.

— Selina (@SurvivaInstinct) August 24, 2021
However, this might open up some options for the Lakers, who might pick someone younger to fill the position. After their first-round exit versus the Phoenix Suns last season, the Lakers are determined to chase another title in the 2021-22 season. They have added Russell Westbrook to their team with a blockbuster trade, making it a big three with James and Davis.
Naturally, some stars had to depart. This year's list of departures featured Dudley, Kyle Kuzma, Alex Caruso, and Kentavious Caldwell-Pope among others, who seem to have found roles elsewhere.
Dudley parts ways with the Lakers in an emotional tweet
"Man what a ride! 14 yr NBA career capped off by winning a NBA championship with the @Lakers," Dudley started, thanking god, James, Lakers president Jeanie Buss, and Anthony Davis.
Man what a ride! 14 yr NBA career capped off by winning a NBA championship with the @Lakers! Just want to thank GOD for blessing me, also want to personally thank @KingJames @AntDavis23 @JeanieBuss and the Lakers organization,Without Bron and AD I don't join LAL or wing a 💍

— Jared Dudley (@JaredDudley619) August 24, 2021
ADVERTISEMENT
Article continues below this ad
I been preparing this moment for a long time! From deep talks With Nash, Hill, Shaq, Bron, Booker, Beal, AD, Giannis the list goes on.. Very excited to Join the MAVS and JKidd staff! Perfect fit and opportunity… Time to get to work

— Jared Dudley (@JaredDudley619) August 24, 2021
ADVERTISEMENT
Article continues below this ad
He added that he was preparing for the moment for some time now, and concluded after a long talk with James, Giannis, Bradley Beal, and many more. "Perfect fit and opportunity… Time to get to work."