"Make The Right Play": Kevin Durant Opens Up About The Key Strengths That He Brings To The Nets
Published 10/02/2021, 2:30 PM EDT
---
---
The NBA community widely regards Kevin Durant as the most talented scorer in the league's history. Not the most prolific, but definitely the most talented one. He does not have any weak zone on the floor.
ADVERTISEMENT
Article continues below this ad
From the moment he steps foot across the halfway line, he's a threat to the opposition's defense. Every team that he has been on has harbored solid championship ambitions.
And he himself is aware of that. He recently admitted that since the 2013-14 season, he has become aware of his value to this league and his team. This is what he told USA Today's Mark Medina in an interview during team practice.
ADVERTISEMENT
Article continues below this ad
Kevin Durant reveals the moment he realized his value in the league
In an interview with USA Today's Mark Medina among other reporters, Durant spoke about the significance of making the right play. He said, "I never really try to gauge myself against the other players in the league. So I guess I just try to strive for perfection every time I'm out there. That may not always be to score, but it's to make the right play. That's what I try to pride myself on; making the right play every time, but then I definitely don't do it. You know I still have to work on that every day."
Further, when a reporter asked him about the moment he realized he has no weaknesses, he said, "I'm still learning and growing, but I do feel like what I bring to the table is always a positive for my team. I think I do more things positive than negative out there on the floor,although I do make mistakes."
"I would say 2013, 2014 is when I really started to feel like I have established myself in the league. And what I do is positive for my team." Of course, he realized that in the year he won the Most Valuable Player Award for the Regular Season during his time at Oklahoma.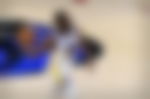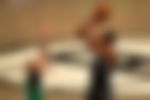 Kobe Bryant admitted he could not figure Durant out
ADVERTISEMENT
Article continues below this ad
In an interview after his retirement, Kobe Bryant admitted that Kevin Durant was the toughest player he had to guard in his career. He said that he retired without ever actually figuring out his game. So if the Mamba felt he could not figure out Durant, can any other defender in the league? Seems quite impossible.
Watch This Story
ADVERTISEMENT
Article continues below this ad
Watch This Story: Michael Jordan and Charlotte Hornets, LeBron James and Liverpool FC, & Other NBA Players Who Own a Stake in Sports Franchises