NBA Twitter Goes Berzerk After DeRozan's Rumored Rating Puts Him Above Beal and Westbrook in 2K22
Published 08/23/2021, 12:37 AM EDT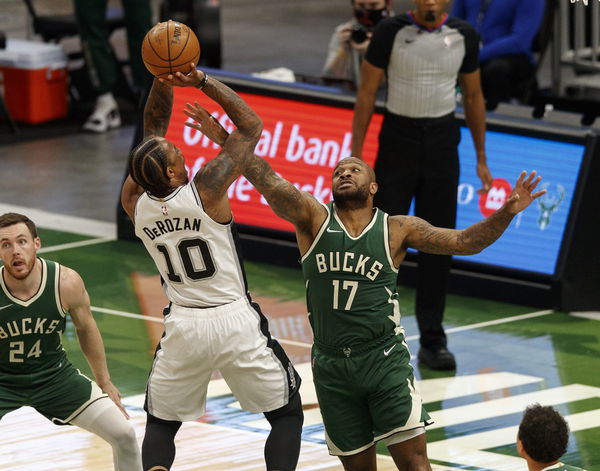 ---
---
NBA 2K22 has released the player ratings of several NBA players. LeBron James, Stephen Curry, Kevin Durant, and Giannis Antetokounmpo are rated 96, which is the highest rating. They are followed by Joel Embiid, Kawhi Leonard, and Nikola Jokic, who are rated 95 in the latest edition of NBA 2K. The ratings of every edition come with surprises and shocks. Many players have come out and complained publicly regarding their ratings. In NBA 2K22, reportedly DeMar DeRozan has been rated higher than the likes of Beal and Russell Westbrook. It is still unconfirmed, but it hasn't stopped the fans from talking about the rumors.
ADVERTISEMENT
Article continues below this ad
San Antonio Spurs traded DeMar DeRozan in a sign-and-trade deal to Chicago Bulls. Thaddeus Young, Al-Farouq Aminu, a protected first-round draft pick, and two second-round draft picks went the other way as a part of the deal. Interestingly, just after signing with the Bulls, DeRozan has reportedly been rated 90 in NBA 2K22.
Fans go berserk over DeMar DeRozan's NBA 2K22 rating
ADVERTISEMENT
Article continues below this ad
DeMar DeRozan's ratings will massively improved since his move to the Bulls if he ends up getting a 90. However, he has been close to 90 twice before. DeRozan was rated 89 in the 2018 and 2019 editions of NBA 2K. Last year, his rating was 86 and he could surpass the likes of Beal and Westbrook in the latest edition. Here's how Twitter reacted.
Derozan a 90 but Westbrook an 85?? that's wild af

— Brandon Vaughn (@Mr_Hollister245) August 22, 2021
ADVERTISEMENT
Article continues below this ad
So Derozen is as good as Jayson Tatum… don't get me wrong Derozen is a good player… but there's no way Derozen and Tatum should both be a 90 overall.. if Derozen is 90.. then Tatum should be a 93 or 94.. do the people from 2k sports watch the nba playoffs?

— Shawn (@lawrencehansbro) August 22, 2021
DeRozan getting a higher rating than Westbrook and Beal has sent shock waves around the NBA world. However, DeRozan has an important season coming ahead. He spent the majority of his NBA career with Toronto Raptors. However, after nine seasons with the Raptors, DeRozan signed for the Spurs. Last season, he played 61 regular-season games, starting all of them. He was an important member of the Spurs. Still, they decided to trade him to the Bulls ahead of the 2021-22 season. It'll be interesting to see the official NBA 2K22 ratings of all players.
ADVERTISEMENT
Article continues below this ad
NBA 2K22 is set to be released for fans on 10th September 2021. Dallas Mavericks star Luka Doncic is set to rock the cover of the standard edition of the game. Additionally, Luka Doncic will be the cover of Cross-Gen Digital Bundles as well. The NBA 75th Anniversary Edition is going to be launched as well. Kareem Abdul-Jabbar, Dirk Nowitzki, and Kevin Durant will don the cover of the 75th Anniversary Edition.