Phil Jackson Once Caused a Storm By Rating Kobe Bryant Over Michael Jordan
Published 09/11/2021, 7:54 PM EDT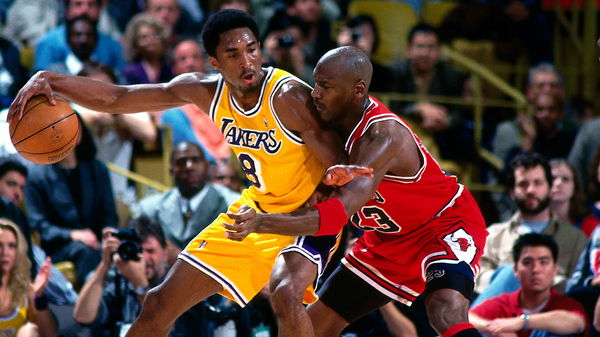 ---
---
Michael Jordan is arguably the greatest player to play the game of basketball. With an incredible ability to score and to lock down players, Jordan was truly one of a kind and led his team to multiple accolades.
ADVERTISEMENT
Article continues below this ad
While many may claim LeBron James as the heir to the throne, it was another legend who truly resembled Jordan, late Lakers' Hall of Famer Kobe Bryant. Drafted in 1996, Bryant showed glimpses of star potential. But his talent was at full display once his play-time on the court increased.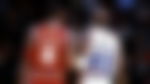 ADVERTISEMENT
Article continues below this ad
Be it his incredible athletic dunks or his smart defensive plays, Kobe was fearless. Even though he was still a young player, Bryant's tenacity, his decision making and shot making abilities were off the charts.
When Phil Jackson claimed that young Kobe Bryant was better than Michael Jordan at the same age
Once Kobe started making strides in the league, NBA media was absolutely buzzing about the new young star. Given how similar his game to Jordan was, the comparisons were pretty rampant. By the 1999-2000 season, the Kobe-MJ debate was at its peak. While the media had its own narratives, the fair judge of both the talents could be someone who knows the players.
In this case it was Phil Jackson. After leading the Bulls to six championships, the Lakers were Jackson's next destination. With the duo of a young Kobe Bryant and Shaquille O'Neal, it wasn't a big surprise that the Lakers were in the Finals.
ADVERTISEMENT
Article continues below this ad
In an interview prior to their Finals matchup, Jackson was asked whether at a comparable stage then 21-year-old Kobe might be ahead of Michael Jordan, the veteran coach had an interesting answer.
"Well, no doubt about it Michael at this age coming in the NBA was all about alley-oops, taking the ball of a hoop every time he got an opportunity. He had developed a great back to the basket game, but he hadn't had the confidence in his outside shots."
ADVERTISEMENT
Article continues below this ad
Jackson certainly raises a pretty fair point in the interview. While Jordan's stats were incredible when he was 21-years old, he was still only in his rookie season and his game was not refined. Bryant meanwhile was in the fourth year of his NBA career when he was 21-years.
Playing alongside a much better supporting cast, Kobe had developed an efficient mid-range jumper unlike 'his Airness'. But after the completion of both the careers, MJ still dominates 'Black Mamba' in terms of accolades. Who do you think is the better player, Michael Jordan or Kobe Bryant?