Rajon Rondo and Russell Westbrook's Troubled History That Worries Lakers Fans
Published 08/29/2021, 11:59 AM EDT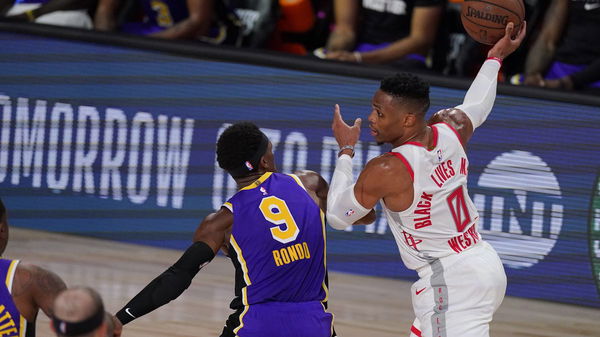 ---
---
The Los Angeles Lakers have built quite the squad, gearing up for the 2021-22 season. Following the Russell Westbrook signing, L.A. has successfully surrounded its Big 3 with shooters of the highest ilk. Rounding up veteran all-stars arguably past their prime on vet minimum deals has been the likely game plan for GM Rob Pelinka, as numerous former Lakers were brought back for the coming season.
ADVERTISEMENT
Article continues below this ad
And they're still not done! With reports now suggesting PG Rajon Rondo's return to Hollywood since the mutually agreed buyout with Memphis, Pelinka is going all in. Rondo was a key part of the LakeShow's championship run in the Bubble, with the legend of Playoff Rondo showing up big time in the Bubble.
As most of Laker Nation will recollect dating back to the Orlando playoffs, Rondo has history with Russell Westbrook! Well, not Rajon, per say, but let's just say a member of the Rondo clan went toe to toe with Broadie when L.A. faced Houston in the conference semi-final.
ADVERTISEMENT
Article continues below this ad
In an altercation that stole the light from L.A. sending Houston home, Russ and William Rondo got into it, exchanging a few "pleasantries" of sorts!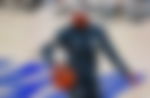 Rondo and Westbrook now on the Lakers
Do Lakers fans smell blood from within their own camp? It's been almost a year since the war of words occurred. In fact, both Westbrook and Rondo even addressed the matter in post game pressers, as L.A. prepared to move to the Western Conference Finals after a decade.
Lakers guard Rajon Rondo says his brother, William, called Russell Westbrook "trash" and nothing more and gave him the "Damian Lillard" wave when the Rockets star asked what he said. Rondo said his bother didn't say anything more and he is hopeful there will be no discipline.

— Marc J. Spears (@MarcJSpears) September 13, 2020
Engaging in classic trash talk, William reportedly waved Russ goodbye, calling him trash on the way out, as L.A. were up by over a dozen against Houston in the 4 quarter in Game 5.
Rondo said, "He didn't do anything crazy," Rajon Rondo said. "He called the man 'trash.' Fans do what fans do. He's my brother first. He didn't do anything disrespectful."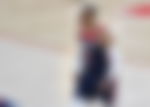 ADVERTISEMENT
Article continues below this ad
However, Westbrook wasn't buying it. Commenting on how it all played out, Russ said, "People at the game, you're supposed to shut your mouth and watch the game. That's the rules, especially when you have families and people here. Apparently, I guess because Rondo was talking s**t, William decided he wanted to hop in, too."
ADVERTISEMENT
Article continues below this ad
Has the tension eased between the two since then? Likely! With the competitive genes running in both families, it's possible that both were eager to voice what they really thought! But, it'd probably be for the best if they talked it out, considering that both families will probably root for the same franchise this time around!
Watch this story –  Isiah Thomas vs Michael Jordan, LeBron James vs Steph Curry, and Other Great NBA Rivalries of All Time