Rasheed Wallace Courts Controversy With Outrageous LeBron James Claim
Published 09/07/2021, 12:30 PM EDT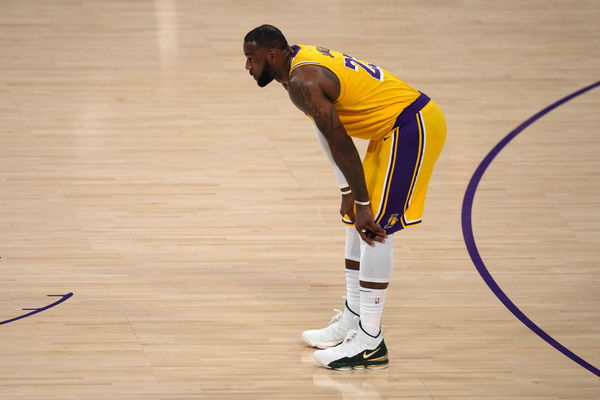 ---
---
LeBron James is arguably the best player in the NBA right now. While many players from his 2003 draft class have fizzled out and have either retired or have become role players, James has continued his domination in the league.
ADVERTISEMENT
Article continues below this ad
Seen as the heir to Michael Jordan's throne, Bron's talent was visible throughout the league. But his game was pretty different to that of Jordan. While MJ was a ruthless scorer in the league and an incredible defender, Bron is more of an all-round beast.
ADVERTISEMENT
Article continues below this ad
Rasheed Wallace claims LeBron James wouldn't as successful in his era
Standing at 6'8″ LeBron James, is undoubtedly a physical beast. With a unique skill set of passing, scoring, defending and rebounding combined with his incredible physicality, James certainly makes a great case that he could thrive in a different era of the game as well.
But Pistons' legend Rasheed Wallace certainly has a different opinion. In an appearance at the Million Dollaz Worth of Game podcast, Wallace claimed that Bron wouldn't be as dominant as he is if he played in his era.
"In my era, he probably would've done good with his physical stature, with him being bigger than the majority of the rest of the players. So he probably would've held his own."
ADVERTISEMENT
Article continues below this ad
Wallace added, "But I don't think he would be as successful as he is now. It's a whole different era back then. I couldn't necessarily say that he would've been a beast but I think he would've held his own." This is certainly a bold claim by the former Pistons' forward.
Given that hand-checking was allowed in the 90s, things would have been hard for Bron. But one thing that 'King James' has shown over the years is his ability to adjust to the changes in the game.
ADVERTISEMENT
Article continues below this ad
LBJ even showed that he could destroy tough defenses as well, as he single-handedly decimated Wallace and the Pistons in the 2007 playoffs. From playing in an era where defenses clamped up to playing in an era where perimeter play has become key, LeBron James has done it all.
Given his incredible skill-set, the 4-time MVP can impact the game in various aspects. His incredible physique would have also helped him in the 90s and given his versatility, James could have dominated that era as well. Do you think LBJ would have thrived in the 90s?