Russell Westbrook to Kobe Bryant: Here's How Many Lakers Stars Have Thrown the First Pitch at a Dodgers Game
Published 08/23/2021, 12:12 AM EDT
By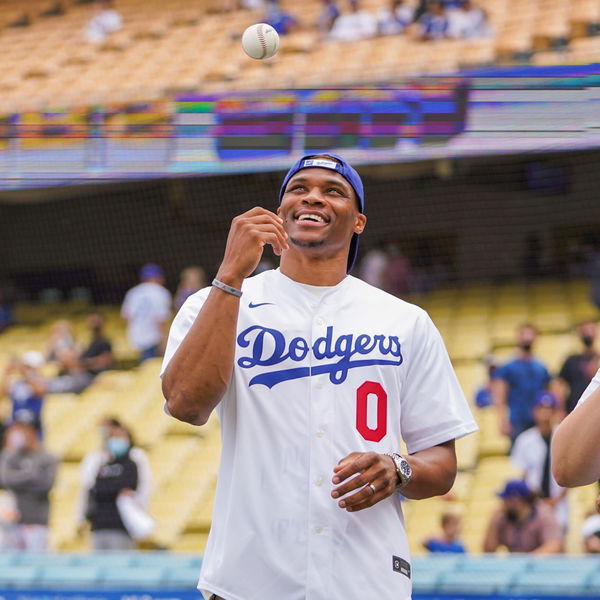 The Los Angeles Lakers and LA Dodgers have a long history, both popular franchises in the USA. Fans and players have always supported each other despite highs or lows. That being said, we had Russell Westbrook throw the pitch at Dodger Stadium – even before the NBA icon scored his first points as a Laker at the Staples Center.
Everyone seemed excited about Westbrook's pitch, shared videos and photos on social media. Even though Westbrook is yet to make his Lakers debut, him throwing the first pitch does make it real. While players like Chris Paul might be booed at the stadium, Westbrook is a UCLA graduate – and will always receive a warmer welcome.
ADVERTISEMENT
Article continues below this ad
Here's a look at other Lakers players who have thrown first pitch for the Dodgers
Anthony Davis
Apart from Westbrook, Anthony Davis is the only other active Lakers star to throw the pitch. LeBron James did not do so in 2018. Like Westbrook, Davis was also a blockbuster trade acquisition and has since then won the 2020 title with the team. He threw to Kenley Jansen, smiling as walked over after his ceremonial first pitch.
Kobe Bryant
The late Lakers legend threw the first pitch at a Dodgers game on June 27, 2000. Bryant was a Dodgers fan, his connection with the team lasting even after his NBA retirement in 2016. The Dodgers too, have never forgotten Bryant's love and support. On the anniversary of his death on January 26 this year, they had 24 written on the pitch to honor the NBA icon.
Lonzo Ball

After being picked by the team in 2017, Lonzo Ball headed to throw the first pitch at a Dodgers game in June 2017. A first-round pick, Ball played with the Lakers for two seasons before moving to the New Orleans Pelicans.
Jeremy Lin
ADVERTISEMENT
Article continues below this ad
In 2014, the then-newcomer Jeremy Lin was the one to throw the pitch at the Dodgers game against Colorado Rockies. The 32-year-old was with the Lakers for one lone 2014-2015 season before moving on to the Charlotte Hornets.
Josh Hart
ADVERTISEMENT
Article continues below this ad
While James did not throw the first pitch in 2018, Josh Hart was among the players who agreed. Before he got the opportunity to do so, Hart was on social
media
asking about the same and was probably one the most excited players to do so.