Sacramento Kings 2021-22 NBA Roster: Can De'Aaron Fox and Co End Kings' 15 Year Wait for Playoffs?
Published 09/16/2021, 2:15 AM EDT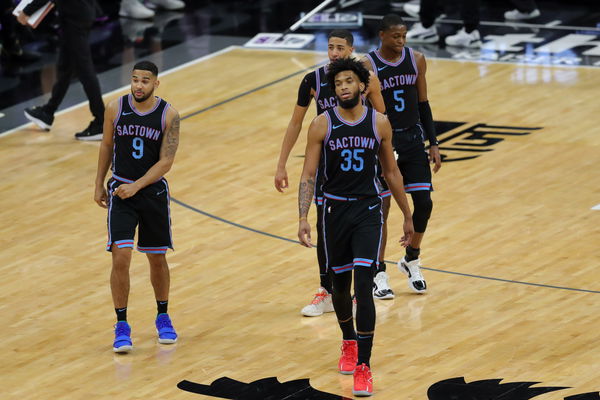 Sacramento Kings have been a struggling team for a while now in the NBA. They have won just one NBA championship in their history, that too as Rochester Royals in 1950-51 season. Rochester Royal also won an NBL title in their first season as Royals (1945-46). Since then, the franchise has been renamed four times, before settling on Sacramento. However, since 1951, the franchise has never even made it to the NBA Finals.
ADVERTISEMENT
Article continues below this ad
Last season, the Kings finished 12th in the Western Conference and posted a 31-41 record. They are on a current longest post-season drought at 15 seasons. The Kings haven't been very busy during the off-season but they have added five players to their roster, two of them rookies. They have also let go of four players, with two leaving as free agents.
Incoming players
ADVERTISEMENT
Article continues below this ad
Tristan Thompson
A top addition from the Kings to their roster, Tristan Thompson was traded to the Kings in a three-team trade. The 30-year-old center is coming fresh off with five playoff appearances last season with the Celtics. In fact, last season was his best playoffs as he averaged 10.4 PPG, 1.2 BPG, and .8 SPG, all being his career-best playoff stats.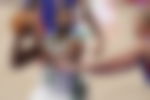 Tristan won the only NBA title of his career at Cleveland Cavaliers in 2016. He started just 34 games in the regular season, but he was trusted in the playoffs and started all 21 games in the playoffs.
Alex Len
28-year-old Ukrainian center Alex Len has signed with the Kings again on a second stint. He enjoyed some of his best years in Phoenix. However, his playing time reduced massively after his move to Atlanta. Last season, Alex started 42 games for the Raptors and the Wizards.
Emanuel Terry
Terry has played for several G League sides before playing in Turkey, Israel, and Serbia. However, he featured in the G League again last season with Agua Caliente Clippers. He has signed with the Kings as a free agent.
Davion Mitchell (9th overall – 2021 draft) and Neemias Queta (39th overall – 2021 draft) – Rookies
Outgoing players
Hassan Whiteside (Utah Jazz)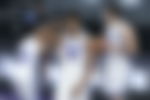 Hassan had two different stints with the Kings, but he was never a regular starter in Sacramento. Last season he started just four games and averaged 8.1 PPG.
Delon Wright (Atlanta Hawks)
The 29-year-old point guard was traded to the Kings in the mid-season last year. He played 27 games with the Kings, starting 8 of those, and averaged 10 PPG. The Kings traded him to Atlanta Hawks in a three-team trade.
Justin James (waived)
Kyle Guy (Free agent)
Sacramento Kings 2021-22 NBA Roster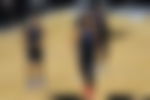 Frontcourt
Marvin Bagley III
Harrison Barnes
Terence Davis
Maurice Harkless
Richaun Holmes
Damian Jones
Louis King
Alex Len
Chimezie Metu
Neemias Queta
Emanuel Terry
Tristan Thompson
Backcourt
De'Aaron Fox
Tyrese Haliburton
Buddy Hield
ADVERTISEMENT
Article continues below this ad
Davion Mitchell
Jahmi'us Ramsey
Robert Woodard II
ADVERTISEMENT
Article continues below this ad
The Kings haven't qualified for the playoffs since 2006 and have finished top 10 in their conference on just two occasions since then. However, some fresh additions like Tristan Thompson and Davion Mitchell will add some firepower to their roster. The Kings hired many new executives for the franchise last year. But it'll be interesting to see how the new additions in the management, as well as the team, change the franchise's fortunes in the coming years.