Shaquille O'Neal Gives His Take on Lakers' Age Issue
Published 09/02/2021, 1:30 AM EDT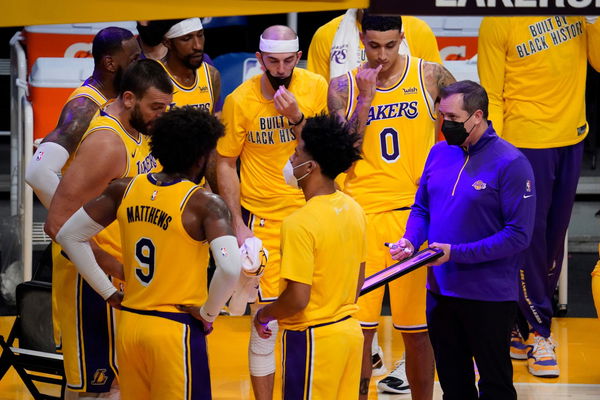 ---
---
Former Los Angeles Lakers star Shaquille O'Neal is a legend in LA. He was a part of the Lakers squad that won the three-peat from 2000 to 2002. In fact, he was one of their best players during those campaigns and ended up winning the NBA Finals MVP in all three seasons. He was also the MVP of the 2000 NBA season.
ADVERTISEMENT
Article continues below this ad
The Lakers have been busy during the offseason. Rob Pelinka and co. have been heavily involved in adding quality players to the Lakers' roster for the coming season. They have added a total of 13 players to their roster so far. These include Carmelo Anthony, Dwight Howard, Russell Westbrook, among others. However, the Lakers have seen 13 departures as well.
Shaquille O'Neal opens up on Los Angeles Lakers off-season additions
ADVERTISEMENT
Article continues below this ad
Four-time NBA champion Shaquille O'Neal recently gave an interview to Complex Sports. In the interview, he was asked to comment on the Lakers' off-season incomings.
"Yeah, they definitely stacked their team," Shaq replied. "They're older, but until you can show me a young team that has dominated the league, I'm not really worried too much about their age."
ADVERTISEMENT
Article continues below this ad
The Lakers signed some big stars this season and already have some of the best players in the league. Many fans are looking forward to watching the LeBron James, Anthony Davis, and Russell Westbrook trio in the coming NBA season. However, many of the incomings were signed in free agency. While many would argue that the roster looks overaged with many players past their prime, the Lakers would want to use the experience of their new signings for the coming season.
ADVERTISEMENT
Article continues below this ad
Shaquille O'Neal himself was a part of a strong roster that won the three-peat at the beginning of the 2000s. Shaq made it to seven consecutive All-Stars from 2000, his first championship-winning year. Two seasons after winning the three-peat with the Lakers, Shaq was traded to Miami Heat in return for Lamar Odom, Caron Butler, Brian Grant, and a future first-round draft choice.
However, Shaq didn't stop and helped Miami win their first NBA Championship. The 2006 win paved way for the Heat to build a strong roster and win two more championships in the next decade.