Shaquille O'Neal vs Kobe Bryant: Which Lakers Legend is Better?
Published 12/14/2021, 7:30 PM EST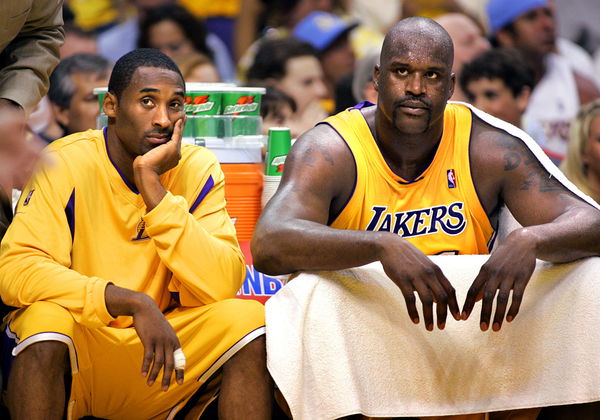 ---
---
It's impossible to talk about the Los Angeles Lakers and their history without mentioning Kobe Bryant and Shaquille O'Neal. The two icons gave the franchise a three-peat, bringing back the title to LA after 12 years in 2000. Despite the team efforts made by both the players, fans and experts have continually compared the two.
ADVERTISEMENT
Article continues below this ad
Of course, comparison paves the way for a common debate–which Lakers legend is actually better?
ADVERTISEMENT
Article continues below this ad
Was Kobe Bryant better than Shaq?
After years of playing together in the NBA, O'Neal, and Bryant have had different career graphs. While Bryant stuck with the Lakers for his entire career, O'Neal has played for five other NBA teams. Irrespective of the path they chose, Bryant and O'Neal's influence on the basketball world itself cannot be ignored.
That being said, their careers alone cannot confirm which player was better–with or away from the Lakers.
While with the Lakers (1996-2004), O'Neal averaged 26.2 points per game. Bryant, who was drafted in 1996, averaged 21.6 points per game over the same years. While Bryant's average is much lower, he played only 15.5 minutes per game during his rookie year. The late five-time NBA champion was a different player back then, no one predicting his improvement over the years.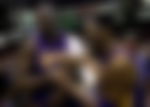 When comparing other aspects including defense and impact, both players have points that put them over the other. O'Neal averaged more blocks, and Bryant averaged more steals, just a small indication that their defensive strengths lay in different places.
Additionally, O'Neal has won four titles, while Bryant has won five. Even though O'Neal was with another team, the two took some time to win a title after the three-peat.
Did their performance improve with time?
Bryant just got better with time, while O'Neal stepped up his game by the Phil Jackson stepped in as coach.
Impact-wise, both of them could bring ahead concrete points. Bryant, at this point, remains one of the most influential players the world has seen. O'Neal, simply with the way he conducted himself on the court, has changed and revolutionized the game.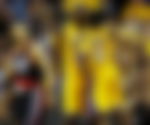 The three-peat
What might actually set the two apart for much might be the actual three-peat. Shaq, to most, was what led them to the titles. Not Bryant. Even if that could be true, the two needed each other during their campaigns. If Bryant was the trustworthy presence on the court, O'Neal was one who made sure the Lakers executed what they planned to do to win. Let's take a look at stats for the seasons, comparing the two Laker stars.
KOBE BRYANT

SHAQUILLE O'NEAL

1999-2000

POINTS

REBOUNDS
ASSISTS
POINTS
REBOUNDS

ASSISTS

21.1

4.5
4.4
30.7
15.4

3.1

2000-2001

29.4

7.3
6.1
30.4
15.4
3.2

2001-2002

26.6
5.8
4.6
28.5
12.6

2.8
Are Shaquille O'Neal and Kobe related?
O'Neal and Bryant are not blood-related. Despite the two of them developing a cordial relationship over the years, the two of them only shared a professional relationship while playing with the Lakers.
Did Shaq slap Kobe Bryant?
With their amazing performance, the Lakers duo is also remembered for their feud.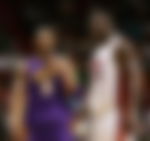 A part of that widely discussed feud was O'Neal slapping Bryant during the team's 1998 NBA lockout. Definitely, in the early stages of the aforementioned feud, the incident happened in LA itself as they argued over foul calls. As others looked to separate them, Bryant cursed at O'Neal. The four-time NBA champion ended up charging at Bryant, slapping him.
ADVERTISEMENT
Article continues below this ad
"His hands are huge," said Corie Blount. "The noise was loud."
Later, Bryant admitted that it did help their relation on the court, which in turn helped the team.
Having said that, one cannot overlook the effect both had on the league. Years after their careers, fans look at them as an example, referring to them as a legendary duo.
ADVERTISEMENT
Article continues below this ad
Which player do you think is better? Was Bryant indeed a better Laker?
Enjoyed reading this article? Download our exclusive app to get 24x7 coverage, latest memes and social media banter. Click here to download.