Should Lakers Be Worried About Russell Westbrook's Playoff Struggles?
Published 08/21/2021, 2:30 PM EDT
---
---
We know Russell Westbrook as a triple-double god in the NBA. Not only for his ferocity and speed, but also his passing IQ and rebounding skill. But it's the question of efficiency where he lacks the stature to make him a true legend. Even though he has recorded the most number of triple-doubles in a season, but his efficiency is a major drawback.
ADVERTISEMENT
Article continues below this ad
The stat leader in almost every game he plays, Westbrook always dominates ball control for his team. Indeed, since he is a point guard, that is expected from him. However, the number of turnovers and missed attempts are equally harmful to a team's performance – especially in the playoffs, where a single shot can decide the fate of a franchise.
ADVERTISEMENT
Article continues below this ad
Here's a look at Russell's playoff history to show his impact in the most clutch moments for the franchise.
Russell Westbrook playoffs history
2011 Western Conference Finals: Westbrook averaged 24 points on 36% shooting, including 20% from 3pt range. He went 3 for 15 in a game where simultaneously, Durant was at 10 for 18 with 40 points. At the end of the series, he had 24 assists and 24 turnovers; that's a 1:1 ratio for assists to turnovers.
2012: Westbrook had a dismal playoff run where he averaged fewer points than the sixth man back then, James Harden. He had 45% true shooting accuracy, whereas Harden and Durant had 64% and 66% respectively. He had 16 more attempts than Durant but ended up with 18 points less.
2014 Western Conference Finals: Westbrook shot 8 for 23 in the closeout game 6. In their four losses, Westbrook shot 9 of 21, 7 of 24, 8 of 23, and 6 of 12. Therefore, repeating history by shooting more than Durant, but less efficiently.
2016 Western Conference Finals: In the last three games of the lost series, Westbrook shot 11 for 28, 10 for 27, and 7 for 21. Consequently, they were all single-digit losses for the Thunder.
Kevin Durant's departure and its impact on Westbrook
2017: This was the year when Durant signed with the Golden State Warriors. This was a move that received a lot of negative criticism from the media. In the regular season, it seemed as if this had fueled Westbrook, who became the first player to average a triple-double in a season after Oscar Robertson. However, he lost to James Harden and the Houston Rockets in the first-round playoffs again. It was not solely Westbrook's fault, since he was playing with a completely new and relatively weak team.
2018: Although Westbrook played relatively better in this series, he got outplayed by Jazz Point Guard Ricky Rubio in the first part of the series. Considering that Paul George had a worse playoff run, they shifted the blame from Westbrook to George.
2019: This was potentially the worst playoff series in Westbrook's history. He took 10 more shots than Paul George every game and yet scored 29 lesser points than him over five games. In game 4 of the series against Portland, he shot 5 of 21 as Thunder went down 3-1. Then, in game 5, he missed 20 shots, which were more than his entire team combined. He missed the last shot, which led to the infamous buzzer-beater from Damian Lillard.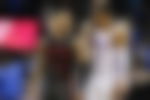 Westbrook leaves Oklahoma City Thunder
ADVERTISEMENT
Article continues below this ad
2020: Westbrook got traded to the Houston Rockets. This time he had a different teammate, James Harden. However, Westbrook had a 48% true shooting accuracy at 19.8 points per game. The point to note here is that Westbrook again had a 1:1 Assist to Turnover Ratio.
ADVERTISEMENT
Article continues below this ad
2021: After being traded to Washington Wizards, he helped them reach the playoffs. However, Westbrook averaged 33% field goal percentage, 25% accuracy from 3 point range, and 79% from the free-throw line. Even when Westbrook had a heavy scorer in Bradley Beal on the team, he still choked and lost in the first round to the 76ers.
History speaks for itself. Is Russell Westbrook really the answer for the Lakers to win another ring? No matter how much history teaches us, you cannot deny that anything can happen in the NBA.