"Smokin That Chiefs Pack": LeBron James, James Harden & Other NBA Players React to Joe Burrow Leading the Cincinnati Bengals to the NFL Super Bowl
Published 01/30/2022, 8:34 PM EST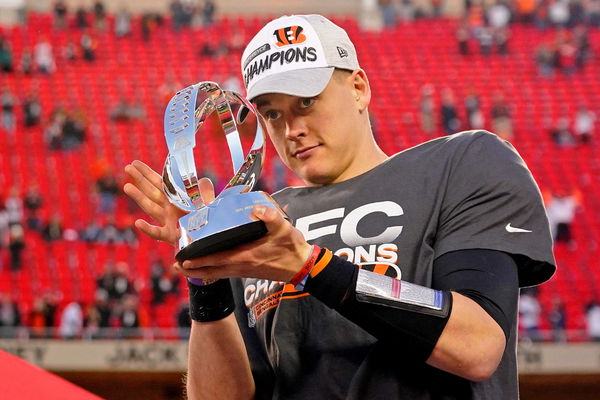 It was an eventful weekend for most sports fans across the United States. LeBron James, James Harden, Kyle Kuzma various other NBA players were left stunned watching the NFL. They watched the Cincinnati Bengals defeat the Kansas City Chiefs to go to their first Super Bowl since 1989.
ADVERTISEMENT
Article continues below this ad
Joe Burrow, the Bengals' quarterback who was drafted to the NFL in 2020 is already going to be in his first Superbowl. He led the team to beat Patrick Mahomes and the Chiefs.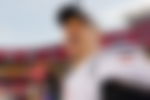 The Chiefs made it to the Super Bowl just last season. However, they yet again came so close to glory and have been eliminated by a pure masterclass. Earlier it was Tom Brady and now it was Joe Burrow. Therefore, this is how NBA players reacted to Joe Burrow's major upset for the Chiefs.
ADVERTISEMENT
Article continues below this ad
LeBron, Harden, and other NBA Stars react to Joe Burrow leading the Bengals to the Super Bowl
When joe getting a statue in cincy?

— Aamir Simms (@EarlShmitty_) January 30, 2022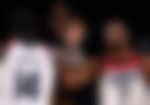 When LeBron James nearly joined the NFL between his NBA season
Just like how Michael Jordan retired to play baseball, LeBron James could have retired from the NBA to play football in the NFL. This was during the NBA lockout in 2011 when some footage was shot showing LeBron James and Kevin Durant flexing their football skills.
ADVERTISEMENT
Article continues below this ad
Moreover, Lebron James even admitted that the Dallas Cowboys and Seattle Seahawks during that time contacted him. They offered LeBron a professional contract to play in the NFL. Thankfully LeBron James refused or else it would have completely reshaped his NBA legacy.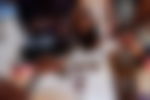 If LeBron was playing in the NFL today, do you think he would be as successful as he is in the NBA? Would LeBron James team up with legends like Brady and Rodgers to ever reach the NFL Super Bowl? Let us know what you think about it.
ADVERTISEMENT
Article continues below this ad
Watch That Story: Latest Lakers Trade Rumors: Whom will LeBron James trade for before the deadline?