"Stephen Curry! Damn It!": Shaquille O'Neal Deflated in Front of Son Shaqir and His Friends as He Can't Shoot to Save His Life
Published 01/09/2022, 11:30 AM EST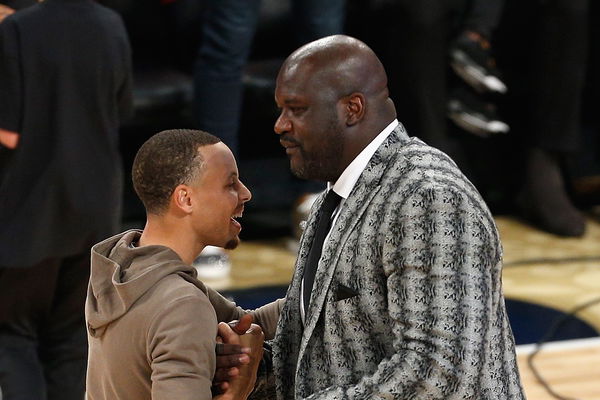 Shaquille O'Neal was one of the best players of his generation. He is credited with revolutionizing the role of a center in the NBA. Shaq won four championships in his career, three with the Lakers and one with the Heat. Apart from his basketball career, Shaq has been a successful businessman and a great family man.
Shaq has four children with his ex-wife Shaunie: Shareef, Amirah, Shaqir, and Me'arah. Shareef and Shaqir are basketball players as well and are trying to get into professional basketball. Shareef currently plays for the LSU Tigers, Shaq's college team, and Shaqir plays for Texas Southern.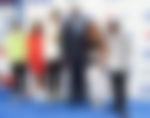 However, Shaq has had a limited relationship with his kids and tried to make the most out of it. Shaq has never wasted an opportunity to play basketball with his sons. Shaq recently played with his son Shaqir and embarrassed himself while shooting three-pointers.
ADVERTISEMENT
Article continues below this ad
Shaquille O'Neal shouts 'Stephen Curry' as he misses a three-pointer in front of his son Shaqir
TNT recently released the 4th episode of the 'Shaq Life' Season. During the 4th episode, Shaq was seen playing basketball with his son Shaqir and his friends. However, Shaq failed to score a three-pointer while Shaqir hits a clean three-pointer.
ADVERTISEMENT
Article continues below this ad
After missing a few shots, Shaq says, "I ain't missing no more. Steph Curry, damn it."
It's good to see Shaq having fun with his son while playing basketball. However, he missed many three-point shots in the above video. But Shaq scoring a three-pointer has been a rare thing during his professional career. He scored just one three-pointer in his whole career. There's not much that Shaq hasn't accomplished in his career. But him scoring just one three-pointer in his career isn't widely known.
ADVERTISEMENT
Article continues below this ad
Shaq's only three-pointer came on February 6th, 1996, when he used to play for the Magic. It was Orlando Magic vs Milwaukee Bucks at the Orlando Arena. During the first quarter, the Magic were leading 37-125 with just 2 seconds on the clock. Shaq got the ball and shot towards the basket with one hand. The shot went in and Shaq managed the first and last three-pointer of his career. Nevertheless, Shaq has had too much otherwise to redeem himself.