"They Were Relentless": Kobe Bryant Named Michael Jordan and Other NBA Star as His Fiercest Competitors
Published 09/13/2021, 3:43 PM EDT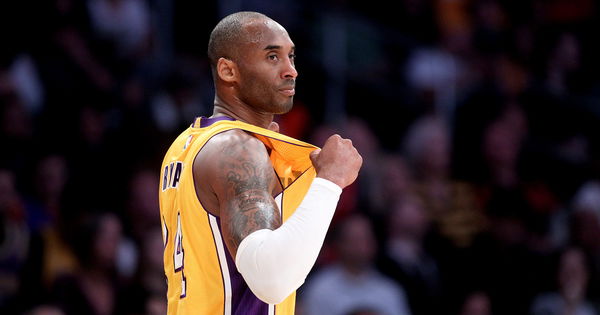 ---
---
The NBA is a league full of multiple talented players. While there is no doubting the obvious skill all the players in the league possess, only the most hardworking and relentless players standout in this cut-throat competition. One name that stands out in the same is Kobe Bryant.
ADVERTISEMENT
Article continues below this ad
Bryant who was drafted straight out of high school had multiple doubters. While the league raised doubts over the 18-year-old, Kobe eventually showed why he was the best player in his class as he worked on his game continuously. Tales about his Mamba mentality still are never-ending showing how unstoppable and motivated the Lakers' legend was.
ADVERTISEMENT
Article continues below this ad
Kobe Bryant says Michael Jordan and Allen Iverson most relentless competitors
Bryant undoubtedly will go down as one of the best players of his generation. Given that he played 20 long years in the NBA, Mamba certainly faced off against some of the best competitors of the game.
From the likes of current NBA stars like LeBron James and Kevin Durant to players like Kevin Garnett and Tim Duncan, Kobe battled against some of the best. But when asked about who was his most relentless competition, Bryant did not include any of these names. Rather two names stood out Michael Jordan and Allen Iverson.
"Michael Jordan and Allen Iverson are the two that come to mind immediately because they were just they were relentless. Now Michael, his relentlessness was amazing and Scotty's as well both ends of the floor."
The 4-time NBA champion added, "In my generation AI was much the same. I mean from opening tip to the end, I mean this guy was just going and going and going and he'd always put you in jeopardy so those two guys are the most competitive I faced."
MJ and competition go hand in hand. Be it his former teammates or Jordan himself, everyone agrees that MJ loves to compete. But people often forget how competitive Allen Iverson was. Playing in a team like the 76ers, AI showed the world what he is capable of doing. Dragging Philly all the way to the 2001 Finals, Iverson made a statement on why he was chosen as the number 1 pick of the draft.
The former MVP unfortunately couldn't sustain his prime as long as the likes of Kobe and MJ. Iverson certainly was one of the biggest icons in the game and had an incredible impact as well. Just like Kobe, AI grew up idolising Jordan. Who among the trio is the most relentless? Let us know in the comments section down below.