WATCH: Houston Rockets Player Talks to the Ball Before Making Free Throws, Fans Shocked
Published 11/08/2021, 6:00 AM EST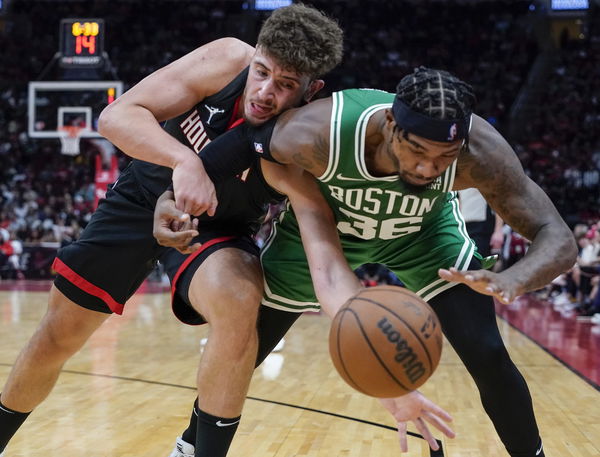 ---
---
As Stephen Curry's Warriors defeated the Houston Rockets on November 7 in what could have been a close game, the fans made an interesting observation. As a part of his free throw routine, the 19-year-old Rockets rookie Alperen Sengun talks to the ball before shooting.
ADVERTISEMENT
Article continues below this ad
That's right, he whispers something to the ball before every shot he takes at the free-throw line. Although, what fans and experts expect to be a superstition has somehow not yielded the results Sengun would have liked. By now, he has only shot and made 23 of his 30 free throw attempts.
Nevertheless, what Alperen does at the free-throw line before every attempt has the fans shocked.
ADVERTISEMENT
Article continues below this ad
NBA fans react to Houston Rockets' Alperen Sengun's absurd FT routine
After mocking Giannis Antetokounmpo's painfully long preperation for FTs, the fans now have a new target at place. Take a look at the most interesting of the comments they made –
Sengun's free throw routine is creepy af 😂

— THATS NOKAY 🌊 (@THATSNOKAY) November 8, 2021
this Sengun dude casting a spell before every free throw and missing all of em

— Ki (@keyonkay) November 8, 2021
What Houston rocket's alperen sengun saying to the ball>>> come on man, come on. Don't do me like this, my girl is watching out here..

— JohnDick (@JohnDick3491) November 8, 2021
never seen a free throw routine like Alperen Sengun's

— Cyril Sarinas (@cjsarinas16) November 8, 2021
Broadcasters being weird about Sengun's free throw routine,, I think it's clear he's saying shahada

— Andean labneh is not a crime (@abu_dajjaj) November 8, 2021
Commentators roasting Sengun Free Throw routine 😂😂😂

— David Ducusin (@Ducusin_21) November 8, 2021
sengun wasting all that time to talk the ball just miss the free throw😭

— Tolunai (@GodlLotus) November 8, 2021
Currently, the 6'9″ center is attempting 3.3 FTs per game and converting 76.7% of those. Looks like he can do better than that and his talks with the ball signals how eagerly he wishes to.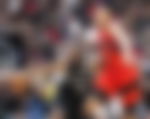 How did this affect the Houston Rockets?
While the Rockets suffered an embarrassing breakdown near the end of the third quarter, there were a few takeaways from their loss to the Golden State Warriors. Primarily that they need to improve their free-throw shooting. The unit missed 12 FTs tonight in a 13 point loss. The game would've certainly been much closer had Sengun and Tate not struggled from the free-throw line.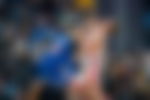 Second, the Rockets need to stop completely relying on Christian Wood to dominate inside the paint. Not saying that Wood is not reliable, but he too will have his off days and someone else will have to emerge.
ADVERTISEMENT
Article continues below this ad
Plus, they were playing against a small-ball Warriors where a 6 foot 7 Draymond Green was playing as the center. Therefore, they should have taken advantage of the height mismatch much efficiently than they did.
Watch This Story: Joel Embiid Punching Lonzo Ball, LeBron James Frustrated With Lakers, and Three Other Must-See NBA Moments From Today
Other insane superstitions from across the NBA
ADVERTISEMENT
Article continues below this ad
The legendary San Antonio forward Tim Duncan had an absurd routine. He used to wear his shorts backward in practice since he had one good practice in college where he accidentally wore his shorts backward.
Another crazy game day ritual being the Lakers guard Rajon Rondo taking showers five times on every game day and Warriors' Steph Curry writing on his shoes. So Sengun is not the first one to have a superstition in the game. However, he might surely be one of the rare ones to use his superstition mid-game.
Enjoyed reading this article? Download our exclusive app to get 24x7 coverage, latest memes and social media banter. Click here to download.