WATCH: Woman Mesmerised By Miami Heat Star Tyler Herro Hilariously Crashes Her Car
Published 09/11/2021, 1:38 PM EDT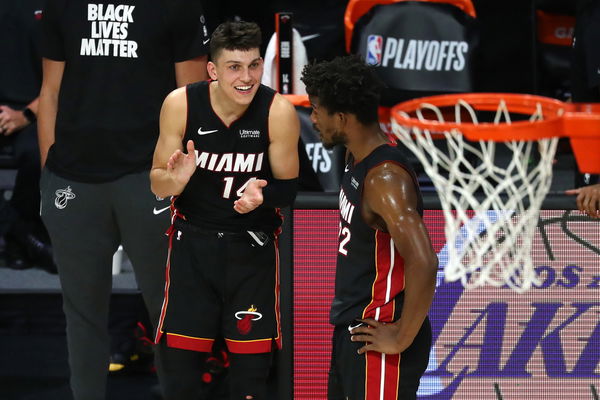 ---
---
Tyler Herro is a former finalist of the NBA with the Miami Heat. In his sophomore year in the league, he helped Miami Heat reach the NBA Finals. A sharpshooter from beyond the arc, Herro has a lot of supporters even at the young age of 21.
ADVERTISEMENT
Article continues below this ad
He recently appeared in public where he was greeting his fans and signing autographs. Subsequently, a woman who was driving got extremely mesmerized by Tyler's presence. So much that she forgot to put her car in park before getting out of the car to meet Herro.
ADVERTISEMENT
Article continues below this ad
She forgot to put her car in parking mode and got out to see Herro, only to see her car go crashing into a building behind her. It surprised even Tyler to see that someone was in such a hurry to meet him, that they did something like this. His first reaction was "Oh no!"
Why was she so excited to see the Miami Heat star?
Tyler plays and has played with some greats in the league, including the likes of Jimmy Butler and Andre Iguodala. And he is currently on a roster with one of the few exciting pure sharpshooters left in the league, Duncan Robinson.
ADVERTISEMENT
Article continues below this ad
The role that he plays for the franchise is crucial; the Heat refused to trade him for Victor Oladipo to the Rockets, which only shows how vital he is to the long-term plans of the franchise. Tyler Herro was a surprise package for the spectators in the Orlando Bubble. He outperformed his expectations and averaged 16 points a game in the Orlando playoffs. However, he somehow did not have that sort of impact in the last season.
Therefore, he became a role player from the bench instead of a regular starter during the postseason games. But to be fair, Heat's playoff run went on only for four games as they got swept by the Bucks. Yet, Herro averaged only 9.3 points and 3.3 rebounds a game while playing 23 minutes.  Moreover, the sharpshooter had a disappointing run from beyond the arc. He got only 13.6% of his shots on target in the playoff games.
ADVERTISEMENT
Article continues below this ad
So is he set to be so legendary that the damage caused by recklessly leaving the car would be worth it for the woman? Only time will tell.