What is the Salary of an NBA Referee? How Does it Compare to NFL, MLB & NHL?
Published 07/20/2020, 7:00 AM EDT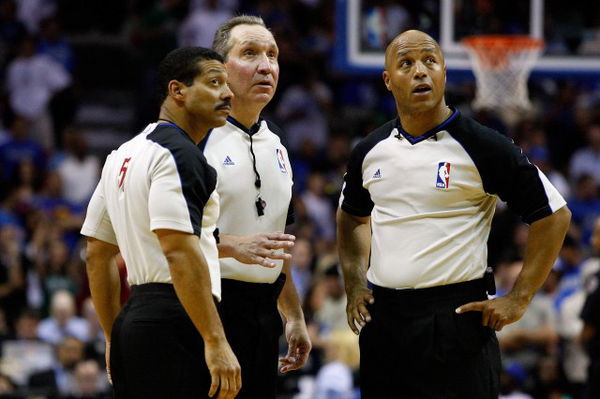 ---
---
The job of an NBA referee can be extremely hectic, and perhaps, thankless. Once an NBA season starts, there are multiple games every day. Each of the 30 teams plays 82 games in the regular season. And then 16 teams go for intense playoff battles.
ADVERTISEMENT
Article continues below this ad
A referee has to keep traveling over the course of a season. Moreover, he needs to be physically fit to keep running during the full course of a game.
How much does an NBA referee earn?
ADVERTISEMENT
Article continues below this ad
Unlike the salaries of the players, the salary of a referee is usually not known. The average annual salary of an NBA referee ranges from $150,000 to $550,000. Like any other job, it varies with experience. According to Career Trend, new referees begin at $600 per game or $250,000 per year. After about three to five years of being a referee, one can become professional. A professional or a seasoned referee earns $3,500 per game or $500,000 annually.
The best of the referees get a chance to blow the whistle at the playoffs and finals. A referee can earn between $800 and $5000 per game for a playoff or final game.
For a game in WNBA, a referee can earn around $425 or an annual salary of $180,000.
How does the salary of an NBA referee compare to NFL, MLB, and NHL?
ADVERTISEMENT
Article continues below this ad
The averages of referees' salaries across different leagues in America are invariably in the same range.
According to Fan Buzz, NFL referees make an average of $205,000 while MLB pays around $300,000. Meanwhile, NHL officials earn an average of $275,000 annually.
A thankless job
ADVERTISEMENT
Article continues below this ad
During the course of a game, a referee is someone who probably has to be at his sharpest at every point of the game. One mistake can lead to a huge backlash. It can sometimes be the most thankless job. People often remember referees for their wrong decisions, especially if it comes at a crucial moment. And in the age of social media, it doesn't take long for people to spread the word.
Various sports have been trying to integrate technology to help the referees make correct decisions. But for a fast-paced sport like basketball, it might not be easy.