When LeBron James Admitted He Took This Key Skill From Michael Jordan
Published 10/02/2021, 4:00 PM EDT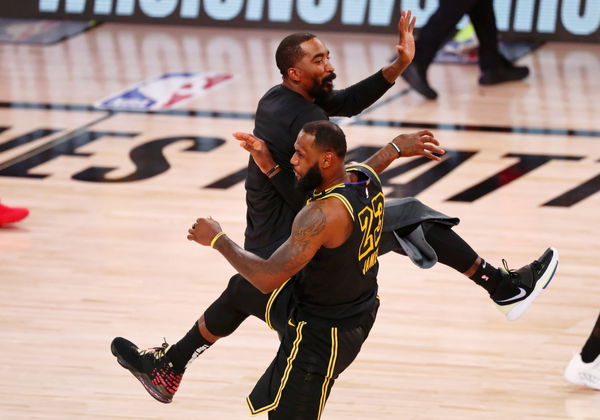 ---
---
2015-16 was arguably the most iconic season in the history of the NBA. The Golden State Warriors pulled off a historic 73-9 season for most wins by a team in a regular season. However, LeBron James led the Cleveland Cavaliers to an even more impressive comeback in the NBA Finals. This made the Cavaliers the only team in the history of the NBA to come back from a 3-1 deficit in the Finals. Making it one of the most exciting seasons in a long time.
ADVERTISEMENT
Article continues below this ad
During the Eastern Conference Finals in 2016, Cleveland faced Toronto with a home game advantage. However, Cleveland lost the 3rd game in this series. In the post-game press conference after Game 3 of this series, LeBron James admitted to taking inspiration from Michael Jordan.
ADVERTISEMENT
Article continues below this ad

ALSO READ: 'Historically We Have Not Seen That Work': Draymond Green Skeptical About Golden State Warriors Plan for 2021–22 NBA Season
LeBron James on copying this skill from MJ
LeBron said "We all take something from somebody, if I shoot a fadeaway I got it from MJ. The no-look pass, that's from Magic. (Pointing at JR) He shoots fadeaway threes, I don't know who he gets it from. But we all admire somebody, so, it's not a big deal." While LeBron lay little emphasis on his source of information, he showed that he set his standards up there with the best.
Every player, as LeBron James said, borrows an element of their game from someone else. But for J. R. Smith, it was a different matter altogether. While speaking to the media about Bismack Biyombo's Mutombo-Esque finger wag, James presumed another player influenced JR Smith's fadeaway threes. That's when Smith hilariously chimed in with a clarification. What was the source of his inspiration? NBA "2K"
ADVERTISEMENT
Article continues below this ad
While the finger wag was the angle the media focused on, one aspect they ignored was LeBron admitting he copies his fadeaway shot from Michael Jordan. Recently, 5 years after this incident, Shaquille O'Neal also pointed out the same thing about LeBron. He said that LeBron has the combined tendencies of Michael Jordan and Magic Johnson. Even the legends agree on how great and versatile his game is.
Watch This Story
At 36, turning 37 this year, LeBron James is one of the best players in the league, if not the best. Considering the best inspired him, LeBron has made sure he will go down as one of the greatest players to play the game.
ADVERTISEMENT
Article continues below this ad
Watch This Story: Michael Jordan and Charlotte Hornets, LeBron James and Liverpool FC, & Other NBA Players Who Own a Stake in Sports Franchises