Why are Michael Jordan Fans So Upset With NBA's Iconic LeBron James Led Advertisement?
Published 10/10/2021, 11:30 AM EDT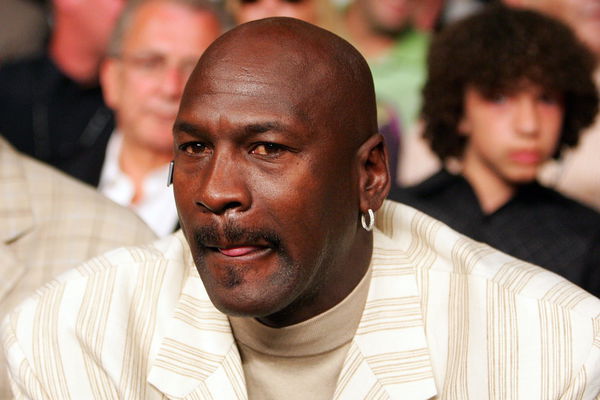 ---
---
Over its rich history of 75 years, the NBA has seen some big names dominate the game. Be it the likes of Bill Russell in the 1960s, Michael Jordan in the 90s and now LeBron James in the modern era, the game has had its fair share of great players.
ADVERTISEMENT
Article continues below this ad
To celebrate the league and its glory, Adam Silver and co. recently came up with NBA Lane. Featuring the biggest stars the league has ever seen, the NBA lane in its 2:48 duration is probably one of the best tributes we have seen in a while.
From appearances from Hall of Famers like Bill Russell, Magic Johnson, Larry Bird, Julius Erving to name a few, to current superstars like LeBron James, Kevin Durant and Jayson Tatum, NBA lane had a filled star cast.
ADVERTISEMENT
Article continues below this ad
Michael Jordan missing from the NBA lane advertisement
While it was certainly refreshing to see all the legendary players in one mega collaboration, perhaps the biggest miss from the NBA lane advertisement was that of Michael Jordan.
MJ who arguably is the greatest to play the basketball, won six championships, six Finals MVP, 5 MVPs and 10 scoring titles in his incredible career. Given the incredible number of accolades he has won, it was rather a big surprise to see that the ad did not pay any homage to Jordan and the Bulls.
Given the massive impact Jordan, and the Bulls had in the 90s, one would surely expect them to see in an NBA ad celebrating its 75 years. Even MJ's fierce rival and Pistons' legend Isiah Thomas got an appearance in the same.
Jordan fans diss NBA's latest advertisement
MJ fans were certainly not pleased with the advertisement. Given that the ad was missing an icon, the displeasure from the fans is certainly understandable. Many even claimed that the ad got the wrong Jordan as award-winning actor Michael B. Jordan also features in the advertisement.
They got the wrong Michael Jordan in the ad 😭

— ??? (@__burneracct) October 7, 2021
Is this the mock-up ad or what? Cos I am not seeing Michael Jordan in this 75th anniversary ad to the NBA. It will complete when its 3min with the last 12 sec being of 🐐 https://t.co/doEBO5ERPr

— Sephiri Mosothoane™ (@SEPHIRI_M) October 7, 2021
Mike don't seem cool like that 🤷🏼‍♂️ probably would have had to get some guarantee that he would have more screen time than anyone else.

— T.J. Bretz (@TJBretz) October 8, 2021
NBA: MJ we want you to do a commercial commemorating the NBA's 75 years by helping a group of kids see everything the league has to offer

Jordan: pic.twitter.com/Ep1N98swMK

— Mak (@rapsfan25) October 8, 2021
No Steph or MJ just feels wrong.

— Laker Cult Leader (@LALexcptionalst) October 7, 2021
Michael Jordan should have been in the @NBA LANE COMMERCIAL.. come on MJ

— Will Conroy (@CHILLCONROY) October 8, 2021
ADVERTISEMENT
Article continues below this ad
So, yeah, I love the @NBA 's new ad. Getting every legend is not possible– I get it. Here's a list of those I didn't see in the spot:

Michael Jordan
Charles Barkley
Reggie Miller
Shaq
Patrick Ewing
Chris Mullin
John Stockton
Chauncey Billups

Who else am I missing?

— James Royer (@jamesroyer) October 8, 2021
Watch This Story
ADVERTISEMENT
Article continues below this ad
Ever since his retirement from the game, Jordan has been away from the public eye and is absent from social media platforms as well. Given how private the 6-time champion has been about his life, there is a real possibility that Jordan might have declined to appear in the advertisement.
Whatever the case maybe, there is no denying that Jordan was a big miss from the iconic ad. Why do you think Michael Jordan did not feature in the NBA lane commercial? Let us know in the comments section down below.