'You Out of Shape': Carmelo Anthony Reveals How Michael Jordan Trash-Talked Him During Training
Published 09/21/2021, 1:29 PM EDT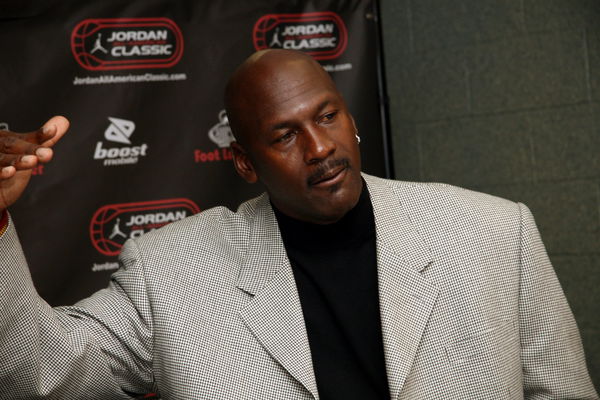 ---
---
Six-time NBA champion Michael Jordan is regarded as the GOAT by many. The NBA legend helped in popularizing the game throughout the world through his balling skills. He didn't just retire from the game as a legend, but also as a trash-talking king. 'The Last Dance' documentary, which revolved around his life, showed various trash-talking stories of the Bulls legend.
ADVERTISEMENT
Article continues below this ad
Everyone saw the documentary and realized how competitive Jordan was. However, there's way more to his career than what was shown in 'The Last Dance'. Many trash-talking incidents were covered, but some didn't make it to the docuseries.
ADVERTISEMENT
Article continues below this ad
One such incident happened with Los Angeles Lakers small forward Carmelo Anthony, who recently revealed his trash-talking exchanges with Jordan.
WATCH THIS STORY: The Weirdest Things Michael Jordan, Carmelo Anthony & Other NBA Players Have Bought
Carmelo Anthony reveals trash-talking exchanges with Michael Jordan
Lakers star Carmelo Anthony appeared in a recent episode of 'Million Dollaz Worth of Game' on YouTube. In the interview, talked about his conversation with Michael Jordan and David Stern.
ADVERTISEMENT
Article continues below this ad
Giving an example of something he said to Jordan to cook him up, he said, "He was too small. We all, we talked. He told me, he made me run around the game, I was out of shape. S**t like that 'You out of shape man,' 'You'll get tired chasing me.' I told him, 'Man, you too small'. He was like, 'a** man, you lighting a** bro'," Carmelo said.
"But you can't win the argument with him. And you can't argue with somebody who's knowledgeable of everything. Like he knows s**t about you that you may might not even. He throwing at it to the arguments. He was like, 'damn they got you'."
Watch This Story
ADVERTISEMENT
Article continues below this ad
Indeed, one can't win an argument with someone who has all the knowledge in the world. Michael Jordan isn't the greatest player for nothing. He remained consistent throughout his career, studied his opponents, and beat them with his skills. Not many acknowledge the hard work players like Jordan put in during the off-season or breaks. In fact, it is this hard work that puts them ahead of everyone else.