Los Angeles Lakers Rumors: Surprising New Name Surfaces for One of the Final Roster Spots
Published 08/23/2021, 1:47 PM EDT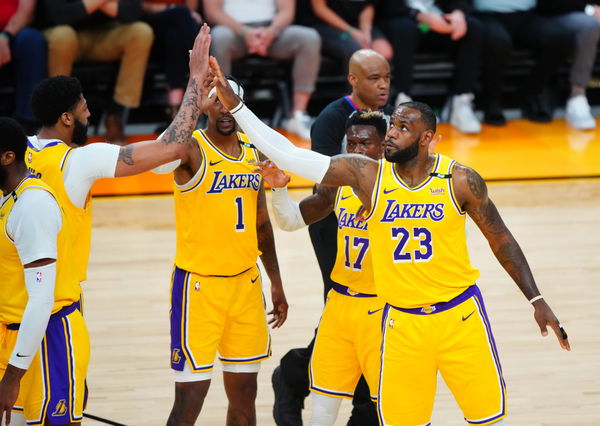 ---
---
The Los Angeles Lakers are now potentially in the market to add another guard to their star-studded roster. They let a significant number of players go in the offseason to acquire other assets and free up cap space. In order to complete Russell Westbrook's trade and sign Carmelo Anthony, the Lakers let go of a lot of their talented players, including Caldwell Pope, Kuzma, and Alex Caruso.
ADVERTISEMENT
Article continues below this ad
However, considering that Carmelo and LeBron are both in the late stages of their career, they needed other players to replace the outgoing ones and the rotational minutes of LeBron and Anthony.
ADVERTISEMENT
Article continues below this ad
They picked up Kendrick Nunn and Malik Monk, among other talented names, to build depth in their roster. Arguably, the strength of this roster has already sent shivers down the league's spine. And yet, we receive word from trusted sources that they are in the market for this Hoosier.
Jeremy Lamb on the move to the Los Angeles Lakers?
As per IndyStar, they expect Jeremy Lamb to begin the next season with the Lakers. However, since he is in the last year of his contract, the Pacers will actively try to trade for him.
As for the suiters for his next destination, Lakers and Hornets are two of the teams interested in his services. Considering that the former has an aging roster with Dwight Howard, LeBron James, and Carmelo Anthony, and Trevor Ariza, Lamb would be a great younger addition.
A couple teams want to see this from Jeremy Lamb before possibly dealing for him. 2 of 3-4 teams interested are the Lakers and Hornets 👇🏽https://t.co/rRLK1t3bXG

— J. Michael (@ThisIsJMichael) August 23, 2021
ADVERTISEMENT
Article continues below this ad
However, it seems unlikely that he would get enough playing time this season if they trade for him, especially considering that the Lakers have too many players in his position at the moment.
Albeit Los Angeles Lakers don't need him at the moment, but he would be an excellent addition for the long-term interests of the franchise. He is a steady outside shooter who can also do some playmaking. He is a former first-round pick from the 2012 draft by the Houston Rockets.
ADVERTISEMENT
Article continues below this ad
However, he was a part of the trade that brought James Harden to the Rockets the same year. He averages a steady ten points per game throughout his career. If he moves to the Lakers, he would be a great role player in the team.