Bastian Schweinsteiger: The Bargain of the Summer
Published 07/19/2015, 11:03 AM EDT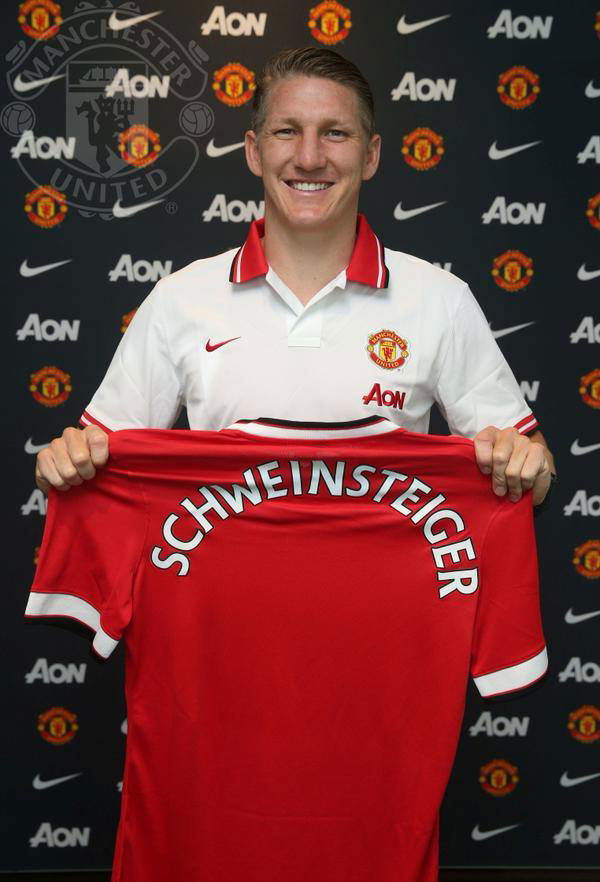 Almost a year ago, in the 124th minute of the World Cup final in Rio de Janeiro, Bastian Schweinsteiger hit the deck for the last time. By the time he dragged himself to his feet, he was a world champion. The honour of scoring the winning goal might have gone to a young substitute- Mario Gotze, but Schweini's performance in those 114 minutes before and 6 minutes after scoring that goal was undeniably brave and combative. Stained on the back of his no. 7 shirt by Maracana's grass and now blood, sweat and tears of a victorious war, Schweinsteiger clunged to his team-mates who were now World Champions.
ADVERTISEMENT
Article continues below this ad
His omnipresence in Bayern Munich's starting XI throughout his career and his performances for both club and country makes his transfer to Manchester United, arguably, similar to those of his counterparts in England; those of Frank Lampard and Steven Gerrard to USA. The only difference being his age. At the age of 30, Schweinsteiger is considerably younger than Gerrard or Lampard or even other European mid-fielders leaving for America.
ADVERTISEMENT
Article continues below this ad
Whoever else Louis van Gaal buys this summer, he may have just made his best signing of the season. Bastian Schweinsteiger for 14.4 million British Pounds is a mind blowing bargain.
This transfer would have been more striking a couple of years ago but it remains a real coup for Manchester United. They have just stolen one of Bayern's most iconic players from Munich while he still has a lot to offer, despite various doubts being raised over his fitness and his age and whether he is fit enough to battle it out in Premier League.
Schweinsteiger offers qualities on 3 fronts to Manchester United's mid-field.
Experience
His experience at the top level for both, the losing and winning sides offers something invaluable to the team. Something no one else of his age could have offered. In Bastian Schweinsteiger, Manchester United have found a champion. Someone, who has tasted success all around the world. Several domestic accolades with Bayern Munich, A UCL and A World Cup. A proven world beater. A player of such kind makes its presence felt in the dressing room which is shown on the field by the players, whether he's or he's not on the pitch. He will also act as a role model for not only the young lads in the changing room but also to the youth teams, the U-21 and U-18 teams.
Schweinsteiger's story is not filled with achievements and successes only. More often than not, he had emerged as the second best in tournaments, and having learnt from such failures, he knows how to come back stronger and hit back harder after a loss. Be it a World Cup semi finals loss in 2006 at home or 2010 in South Africa or Euro Cup silver medal in 2008 or missing a penalty in the 2012 Champions League final against Chelsea, Schweinsteiger has overcome disappointment, and he is still a winner. You don't accumulate over 100 caps for Germany and rack up 500 performances for Bayern Munich unless you are a special player.
Bastian Schweinsteiger had worked under Louis van Gaal and it was he who converted Schweinsteiger from a wide man to a central, holding mid-fielder. Therefore, Schweinsteiger trusts Van Gaal's methods and knows what will be expected in pre-season and in between big matches. His faith in the philosophy should inspire other players, young and old, and he will no doubt be one of Van Gaal's lieutenants in this regard.
Control and Evolution
A mid-field general of the true sense, Bastian Schweinsteiger is someone Manchester United can use as the replacement of the huge gaping hole created after the departure of Roy Keane and Paul Scholes. Schweinsteiger may neither be the second coming of Roy Keane nor Paul Scholes. Nevertheless, he possesses qualities that may finally compensate the loss of both. With increased responsibility for both club and country has come a greater physical presence on the pitch, a steeliness. His hard tackles can break up play and can help win possession back and his passing guile will help the mid-field ticking.  Better still, he'll be able to keep United's mid-field play dynamic enough, as opposed to last year's static display, by invariably finding a teammate to pass the ball with precision and accuracy. His pass accuracy in Bayern last season has been in excess of 88%. 
Regardless of how effective Michael Carrick can be, and to what extent Ander Herrera has grown into his role at the club, having a player of Schweinsteiger's stature in the team will have a psychological effect on his team-mates and the opposition – perhaps it is in this respect that Schweinsteiger will most compensate for the loss of Scholes and Keane.
Like all good players, Schweinsteiger has evolved as a player over seasons, and under different managers. Just as Andrea Pirlo switched from attacking midfield to a holding position, and Franz Beckenbauer, also originally an attacking midfielder who dropped even further back to become a pioneer of the defensive role, Schweinsteiger has developed his game. He played on the left wing when he first broke into the Bayern Munich and Germany teams. He loved to run at defenders and, being predominantly right-footed, often looked to cut inside and get off a shot – as he did to devastating effect against Portugal in the third-place playoff at the 2006 World Cup.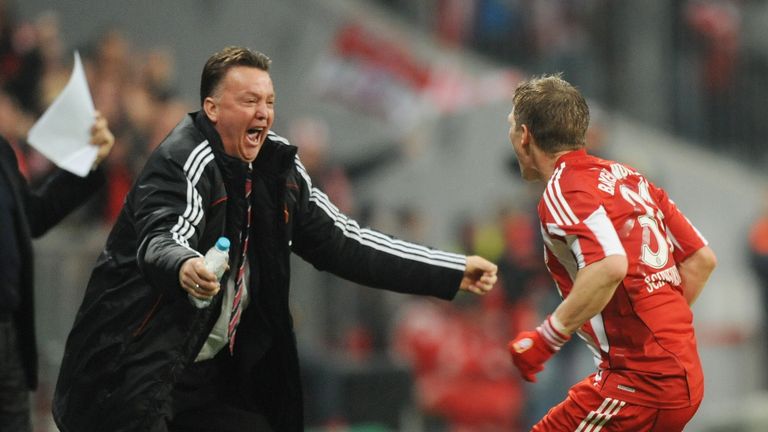 However, everybody in the footballing world knows that Van Gaal does not accept the pre-defined positions for his players. And although his tweaking at Old Trafford hasn't really paid dividends as yet, his work with Schweinsteiger, although simple, was staggeringly effective. When he joined Bayern Munich in 2009, Van Gaal convinced Schweinsteiger to ply his trade in the centre of the park rather than on the left flank, along with Mark van Bommel. Van Bommel provided the metal; Schweinsteiger brought the brains.
Leadership
"Basti is an absolute leader and world-class player who can put his stamp on any team, including of course Manchester United. He knows Louis van Gaal, who wanted him unconditionally.
"He will approach his new challenge in England like we all know him – with dedication and highly-motivated." – Germany coach Joachim Low
A glowing testimonial from his national team coach and pretty much everyone who has cared to comment on the transfer says it all about Schweinsteiger: he is universally respected for both his achievements on the pitch and the manner in which he conducts himself off it. He is a leader of men and can motivate the people around either by his words and more so, by his work rate. He's the leader Mercedes Benz in the Manchester United engine room. An engine room which for so long had been running on a malfunctioning automobile.
ADVERTISEMENT
Article continues below this ad
Problems
Doubts are being raised from certain sections of critics and rivals over his alleged injury proneness and age. However, his longevity should not be confused with antiquity. He is a similar age to Michael Ballack when he signed for Chelsea as the Germany captain, and he is younger than Andrea Pirlo when the Italian maestro revitalised his career at Juventus after being shown the door at Milan. Both of them went on to make Champions League final appearances although both of them lost in the finals, the former to Manchester United, ironically.
ADVERTISEMENT
Article continues below this ad
United will need stronger reserves this season given their return to the Champions League. They will also be hoping to perform significantly better in the domestic cups. With Robin van Persie leaving, defensively the team still lacking quality and Louis van Gaal already hinting a couple of more signings this transfer summer, it will still be very hard for the Red Devils to catch a player of Basti's calibre and for such a cheap price. Schweinsteiger's transfer was nothing short of day-light robbery by Ed Woodward and Louis van Gaal and to even match it would be a great achievement. Emulating it is a distant dream. Bastian Schweinsteiger is United's, probably Premier League's, bargain of the season.