Bayern Munich Thrash Tottenham Hotspurs 7-2 in the Champions League
Published 10/02/2019, 2:49 AM EDT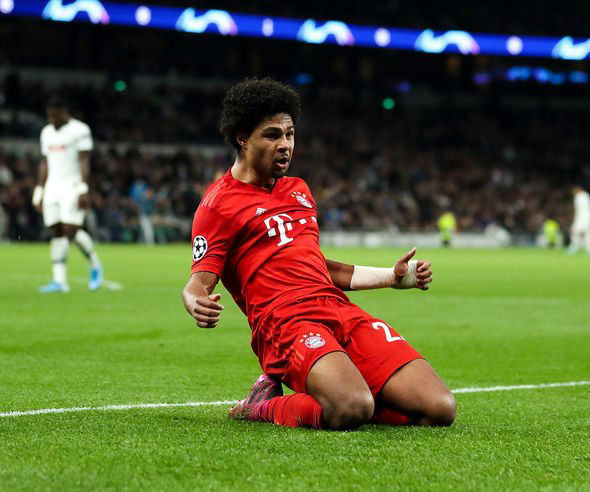 ---
---
During a group stage match at the 2019-20 Champions League, Tottenham Hotspurs went full Spursy. The 2018-19 runners-up were on the receiving end of a humbling 7-2 defeat at home to Bayern Munich.
ADVERTISEMENT
Article continues below this ad
The architect of their defeat was was a four-goal run by former Arsenal winger Serge Gnabry. In other words, it was a semi-North London Derby, as Arsenal and Tottenham Hotspurs are traditional rivals.
Bayern Munich ran riot at the New Tottenham Stadium, as a Robert Lewandowski brace and a Joshua Kimmich goal added to the misery. This was Spurs' biggest loss in a European cup competition, and they had a boatload of humble pie to eat. It was also the first time Spurs conceded seven goals at home in any competition.
ADVERTISEMENT
Article continues below this ad
Tottenham's collapse was the latest nail in the coffin for Mauricio Pochettino this season. The Argentine manager is under a lot of pressure as questions arise about his future.
Of course, the disgruntled Spurs fans were baying for blood, namely Pochettino's sacking. Prior to this, Tottenham Hotspurs were stunned by the likes of Colchester, Newcastle and Leicester City.
After the devastation, former Tottenham player Chris Waddle tore his former side a new one. Speaking to BBC Sport, he firmly believes that Pochettino needs to try a different approach. He also suggested that Tottenham Hotspurs seriously underestimated their German opponents.
"Tottenham's defence is not good enough," Waddle said. "It needs a good overhaul. It needs a complete change."
"Maybe even go three at the back? This is not working for Spurs, it's not been working for weeks but this system is wrong.
"The tactics are wrong. Bayern Munich have been able to take the whole back four out of the game."
https://twitter.com/ZWODDE_/status/1179140255426981888?s=20
Waddle even bore down heavily on Spurs' management for their transfer policy. This was a direct reference to the future of Christian Eriksen and his transfer saga.
"I do not get the tactics. It's not playing to their strengths. I don't think Serge Aurier wants to be there, Christian Eriksen hasn't signed a new contract," he continued.
"There is so much going on off the pitch. It should have been dealt with over the summer instead all the contract questions are still going on. It's a shambles. You have no idea where you stand."
"A club of this stature should not be like this. They have to sort it out quickly, it's a genuinely shocking scoreline."
"I am a big fan of Pochettino and have been a fan of what he has done so far but now is the time we have to look at his tactics and question him and wonder what he is doing.
"Tottenham did not put any pressure on the ball and Bayern Munich just ran behind them. You cannot play that style against a team like Bayern Munich."