BCCI Official Says It's Unfair to Break Ravi Shastri-Virat Kohli Combination
Published 07/25/2019, 2:58 AM EDT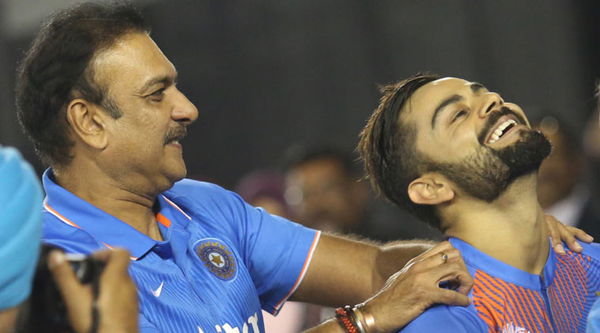 ---
---
After having a surprising exit from the semi-finals of ICC World Cup 2019, a review was expected to be done on the performance of the Indian team. Even the term of the coaching staff are yet to end after the West Indies tour. Although the Supreme Court-appointed Committee of Administrators (CoA) have started accepting the applications for the position of the head coach and support staff, an official of Board of Control for Cricket in India (BCCI) believe that current coach Ravi Shastri should continue as the head coach as that will help Virat Kohli to evolve as captain in future.
While speaking to IANS, a senior BCCI official expressed that it was important to continue with Ravi Shastri and Virat Kohli as they complement each other well. Even they backed the youngsters while keeping the ICC World T20 in next year and the 2023 50-over World Cup in mind.
"Nothing permanent with a long term effect should happen at this stage of transition. Shastri and Kohli complement each other well and it would be unfair to change half of a team that has been successful," the BCCI official said.
"A change in coach may prove to disturb the equation that exists which allows the players to have the mental space to excel. If a change is made at this stage, then it would be a change of strategy and planning for the next 5 years. It would be unfair to take such a decision at a stage when the stakeholders are not the ones deciding," the BCCI official explained.
However, The BCCI invited applications on July 16 for the head coach, batting coach, bowling coach, fielding coach, physio, strength and conditioning coach and administrative manager posts for the Indian team. The current coaching staff were given a 45-day extension after their term ended with the ICC World Cup.