BCCI Planning Farewell Tour for Yuvraj, Sehwag, Harbhajan & Zaheer?
Published 05/16/2015, 5:13 PM EDT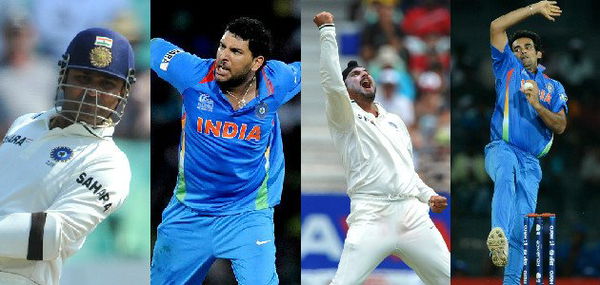 The Board of Control for Cricket in India (BCCI) is thinking on bringing India's Fabulous Four-Virender Sehwag, Zaheer Khan, Harbhajan Singh and Yuvraj Singh– back in the team for the tour to Bangladesh next month. It is believed that they would be brought in the team for the tour in order to give them a graceful and respectful send off, one which they truly deserve.
ADVERTISEMENT
Article continues below this ad
As reported by Mail Today, a BCCI official said that nothing is finalized but the board is certainly considering this. According to the official, BCCI feels that the contribution of all the four players has been immense in taking Indian cricket to where it is.
"What they have done for Team India in the past decade will be hard to match. But as is the case with every sport, time does catch up with you. So we are thinking about giving them an opportunity to go to Bangladesh and sign off on a high…. Some people may term it an emotional decision, but so what? But yes, the idea needs the approval of national selectors," the BCCI official told Mail Today.
ADVERTISEMENT
Article continues below this ad
Generally, a virtual 'A' team is sent to tours of Bangladesh for the youngsters to have a feel of international cricket and get the desired exposure, but this is something which comes from out of the blue.
When asked if all of them, that is, Yuvraj, Harbhajan, Zaheer and Sehwag would be selected for the entire tour, the official said, "That would depend on the selectors. It could very well be that some of the players are picked just for the Test match while the others are picked for the ODI series."
The quartet, without whom it was difficult to imagine an Indian Team sometime back, have been off the selectors radar for way too long and it doesn't seem as if they'll regain the lost touch. The four of them played crucial roles in both 2003 World Cup in South Africa and the 2011 World Cup at home. In 2007 World T20, only Zaheer missed out as he couldn't make it to due to Injury and the other did their part to near perfection, with Yuvraj even hitting Stuart Broad for 6 sixes in an over in Durban.
While Sehwag, Harbhajan and Zaheer were instrumental in taking India to the pinnacle of Test Cricket in 2009 and guiding the team to few great victories overseas, Yuvraj sadly, could never secure his spot in the test team playing just 40 tests.
Among these four players, Sehwag(104 tests) and Harbhajan(101 tests) make it to the elite list of players representing India in 100 or more tests while Zaheer Khan has played 92 tests for India. When it comes to representing India in ODIs, the quartet has represented in more than 200 matches with Yuvraj making the maximum appearances with 293 matches.
From once being world beaters and trend setters in opening the batting, left arm swing bowling, the art of bowling doosras and effortless six hitting, it's sad for every cricket fan to see them struggle the way they do. Forget making a comeback, these four haven't really set the IPL ablaze too, and with the Indian team already having a settled look to it, it would be more than difficult for any of the four to breakthrough.
ADVERTISEMENT
Article continues below this ad
Sehwag (36), Zaheer (36), Harbhajan (34) and Yuvraj (33) are not getting younger by the day, and their fitness and reflex levels show that age is certainly catching up with them. Sehwag no longer has the fast hands, Zaheer has lost considerable pace and Harbhajan and Yuvraj are not agile anymore and their reflexes have dropped.
Maybe BCCI is thinking in the right direction, but the kind of champions these four are, it would be foolish to write them off anytime.
Picture Courtesy- Yahoo Cricket
ADVERTISEMENT
Article continues below this ad