Lewis Hamilton, only for the second time since 2007, when he joined the circus, was beaten by a teammate- with the same equipment (the other being in 2011 by Jenson Button). One might assume that ever since he "forced" the exit of Fernando Alonso from McLaren, on his rookie year, he had, at the same box, drivers that shouldn't cause him harm. Heikki Kovalainen wouldn't be that guy and Jenson Button, while also a world champion on his own, had a much more relaxed personality that made for a good cohabitation. That should be the same when he decided to move for Mercedes, on 2013, joining Nico Rosberg that, at the time, wasn't showing real signs of what he would become.
Even after the hybrid power units era, the Brackley-based team was on a high, and that was confirmed when Lewis got his first win (Hungary).  Rosberg and him raced together since the kart times and knew each other well enough to imagine conflict. Fact is that the Stevenage born driver added a second and a third crowns to his tally, and seemed to master things at the Silver Arrows, even when things started badly. One might just remember 2014 and how Rosberg had the edge until British GP, when his DNF made Hamilton impose his law, even with double points at stake in the last GP.
The year after it all seemed easier. However Lewis Carl Hamilton, while being a hungry race animal, capable of surprising specially when conditions are tough, is beatable by someone with the same car. And while Nico's unexpected retirement deprived the Circus the chance of seeing if it is more common than not, those who stay will surely gain confidence and try to exploit his weaknesses, even with different colors.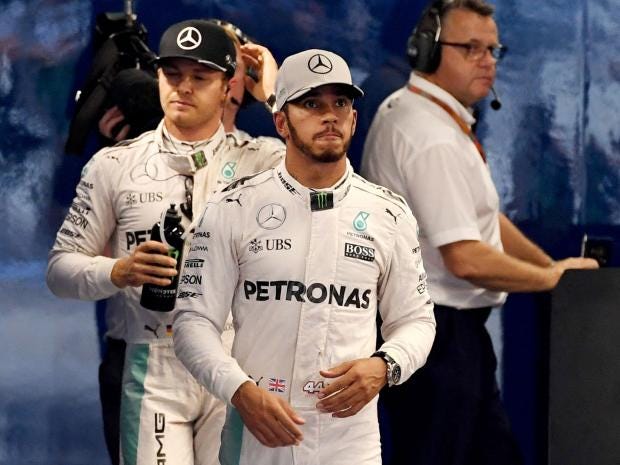 And what are those? First of all, Lewis tend to be overconfident, which most of the time is good as a competitive habitat on Formula One. This year he showed, for a long time, an image such as "no matter the points difference, I will beat Nico whenever I want". That was not to count with the mechanical failure on Malaysia or the penalties for power unit changes. That seemed to hit him hard, even though he kept winning and trying till the very end.
One could even consider his VIP-lifestyle, posing with top models or surfing in Bahamas, from New York to Las Vegas and Monaco, as a deterrent, but it doesn't seem to be the case, even in present times. Even James Hunt and Nelson Piquet also treaded the same path but F1 then wasn't as fitness dependent and mentally demanding as it is now. That he manages to do so many things just add to his favour. What it almost certain, however, is his need to feel everything under control – be a part of strategy process, the team around him or his car choices. It is not strange that he felt the impact of the engineer and mechanics change done before the season, even saying that it broke the harmony around him. 
If all those years on the top helped to polish the jewel and mature his style, sometimes still, the Briton seems to forget it and make his instincts prevail (an example? First lap of Spanish GP, when he had more to lose on the Mercedes pileup). He is not the kind of driver that adopts regularity as a weapon – he wants to win, earn poles and rewrite history books just like Michael Schumacher and his idol Ayrton Senna did and that can turn against him. Which Lewis Hamilton we will see on 2017? Good question, even more now with the incertitude concerning who will lineup beside him. That too is also a very nice perspective…
Read: Musical Chairs: Race for Mercedes 2017