Behind the Scenes at EssentiallySports: The journey of Captivating Content From the Authors' Desk to Yours
Published 03/01/2023, 4:08 AM EST

Follow Us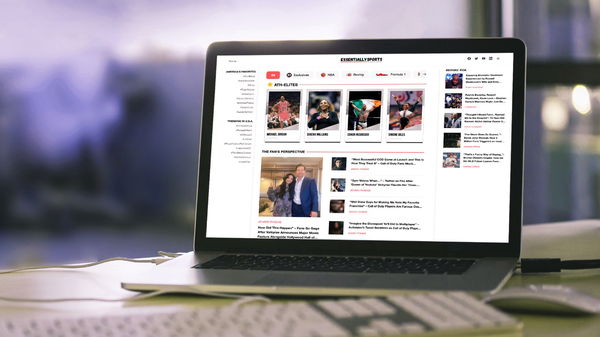 EssentiallySports strives to deliver unique and engaging content, and keep fans across the spectrum of thirteen distinct sports updated with not just the on-field happenings, but also go a mile further and remain engaged with their favorite sporting personalities and related events off the field. 
America's Favorite Video Today
To ascertain that our readership always 'know the score', our team of passionate writers fervently do their utmost to present the finest and unvarnished narratives that leave the audience wanting more. 
The Writing Process 
ADVERTISEMENT
Article continues below this ad
Before dipping the pen in the inkwell, our writers thoroughly sweep sources at their disposable to ensure the final outcome provides the readership with the most authentic and instructive articles. Official reports, interviews, and expert analysis amongst others are comprehensively examined to deliver reliable and succinct new pieces. 
A dedicated team of accomplished strategists assist them in compiling the initial draft by exploring every dimension that would contribute towards making the final story a veritable kaleidoscope that maintains the fancy of the audience throughout. 
Structure is integral to every story's composition, and so, once every component of the story is thoroughly researched upon, the framework is laid out. We firmly believe in making every second of our reader's time spent on our articles worthwhile. Our writers try to include every relevant detail while ensuring the script is crisp and interesting. 
A rule of thumb that writers at EssentiallySports are encouraged to follow is to view their story as a part of the audience. What they would consider valuable enough to spend their time on. 
Once the framework is finalized, writing begins. Nostalgic reminiscence, snippets of interviews, and imagery is carefully placed to avoid monotony and keep the audience involved. The idea is to deliver on much more than plain facts, and ensure a mesmerizing experience for the reader. 
Editing and Revisions
To err is human, hence, checkpoints have been established to confirm that the finished product is not plagued by any discrepancy.
Once the writers complete their draft, they submit it to the Editor, who is trusted with corroborating every inch of the work before publishing it. Our team of Editors come with multi-year experience in the journalism industry besides being expert analysts of the sporting division they oversee. Editors seek to improve syntactic and grammatical consistency, alongside confirming the veracity and objectivity of the story before approving it for publishing.  
Writers are expected to incorporate the suggestions made by the Editor, and further revise and polish their article. 
ADVERTISEMENT
Article continues below this ad
On the days of live-events, the stipulated exchange is a relatively challenging task. In the case of which, the most experienced writers are deployed to cover them. Our senior writers are trained to deliver deftly and with exceptional quality. They're domain experts who boast of years of writing experience in a time-efficient manner. 
Creative Collaboration
Collaboration is indispensable to creativity and innovation. EssentiallySports diligently endorses the practice of the interaction of its various departments to promote an environment where each member's perspective is given importance and deliberated upon. Writers, Editors, and Content Strategists frequently interact with each other and exchange ideas, insights, and individual perspectives, and conceive stories that would be both enriching and fascinating for the readership. 
ADVERTISEMENT
Article continues below this ad
Conclusion 
The publication of creatively crafted informative articles on a daily basis is not just a job for the writers at EssentiallySports, it's the ravishing conclusion of a carefully-thought process; a labor of love and passion. The writers work tirelessly to ensure that our readership doesn't miss a beat. Whether you're a die-hard sports fan or simply someone who enjoys keeping up with the latest news, you can count on EssentiallySports to deliver the most compelling and perfectly rounded narratives each day. 
Providing feedback will help us make your experience better.
Enjoyed Your Read? Let us know how likely you are to recommend EssentiallySports to your friends!