"Believe in This Investment"- Destiny 2 Executive Reassures PvP Players With Splendid News
Published 08/05/2021, 9:30 AM EDT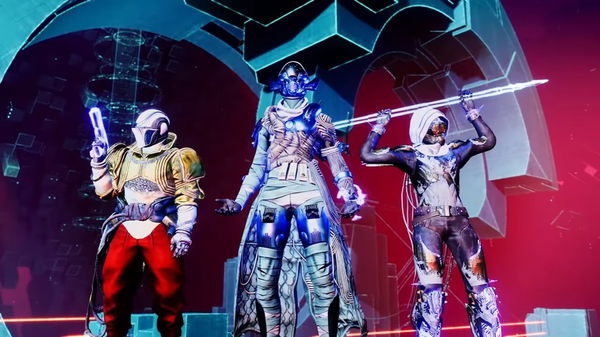 ---
---
Within a few weeks, fans of Destiny 2 will hear a lot of news about the game's future during the upcoming Showcase. The event will happen on August 24, which will also be the day Season of the Splicer concludes. Players will know about the game's upcoming season along with some news about the next expansion involving the Witch Queen.
ADVERTISEMENT
Article continues below this ad
However, for the past few weeks, the developers have already revealed some changes through Bungie blog posts. Most of these changes have involved the game's popular PvE modes like Vanguard and many others. But recently, a Bungie developer revealed some of the company's plans involving the PvP experience.
We believe in this investment, but it is going to take some time before you start seeing results in game.

— Joe Blackburn (@joegoroth) August 4, 2021
ADVERTISEMENT
Article continues below this ad
Destiny 2 to receive new maps, including two vaulted locations in future seasons
Destiny 2 Assistant Game Director Joe Blackburn recently tweeted about the developers' plans for the PvP experience in the game. He explained that the first half of 2021 revolved around improving the foundation of the PvP modes like Crucible. He later mentioned that this will also happen in Season 15 with the removal of three-peaking and new reputation system for Trials of Osiris. With a strengthened foundation, Blackburn said that they can now finally invest their time in introducing new stuff.
When we upgraded our engine with Beyond Light it means we had to hand port all of our Destiny 2 maps and modes. So, while it may seem from the outside like we're just pushing a button there's a significant lift from the team to get more of this content back in rotation.

— Joe Blackburn (@joegoroth) August 4, 2021
He mentioned the developers will now 'open the faucet' of new content for PvP in Destiny 2. This will begin with the porting of two Destiny 2 vaulted maps to the game's new engine in Season 16. Following that, the developers will also introduce a brand new map in Season 17, which will have some new environments. Finally, Blackburn also revealed that Season 18 will add a map from the world of Destiny to the franchise's sequel.
Finally, after those 3 maps are added to the rotation in 16 and 17, we will be remastering a Destiny 1 map and bringing it to Destiny 2 for the first time in season 18.

— Joe Blackburn (@joegoroth) August 4, 2021
New modes with tweaks to existing ones as well
ADVERTISEMENT
Article continues below this ad
The changes for the PvP experience in Destiny 2 don't end with just new maps. Blackburn has excited a lot of fans by revealing that the developers might bring back the fan-favorite mode of Rift. The developers haven't completely agreed to add it again because they want to see if it will still hold up well with the new fast gameplay of Destiny 2. Along with that, Blackburn also said that Bungie is currently working on new modes. So fans don't have to worry about the PvP experience not receiving any new content.
Second, the team is working on multiple brand-new modes for 2022. We aren't quite ready to spoil these yet, but we're excited to offer new twists and rules to the ways you can make shaxx proud.

— Joe Blackburn (@joegoroth) August 4, 2021
ADVERTISEMENT
Article continues below this ad
The Destiny 2 Showcase is still weeks away, and Bungie is dropping bombshells almost every day now. This has generated buzz in the community about the upcoming event, which should have some massive news about the future. However, until then, fans can try to process this information Joe Blackburn has blasted at their face.
WATCH THIS STORY- Call of Duty: Warzone vs Fortnite: Which Is the Better Battle Royale Game?
Trending Stories