'I Don't Wanna Hear Any Excuses'- Anthony Rumble Johnson Urges Fighters to Not Take Weight Cut Lightly
Published 04/20/2021, 3:02 PM EDT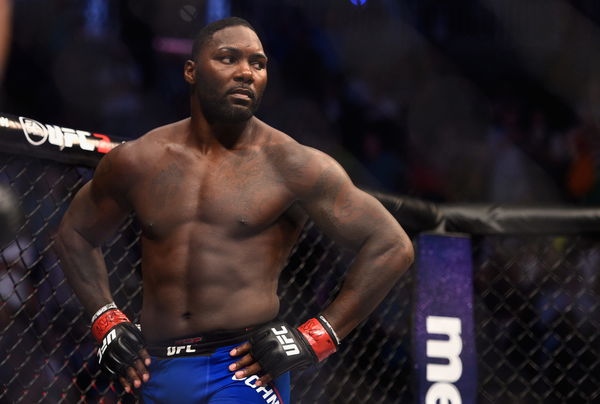 ---
---
Anthony Rumble Johnson is one of the legends of the UFC. A fighter known for his brutal knockout power, Johnson has been fighting through divisions. He started off as a welterweight and has since fought at middleweight, light heavyweight, and even heavyweight.
ADVERTISEMENT
Article continues below this ad
However, he found unparalleled success at light heavyweight, where he got closest to the title. He fought another retired legend, Daniel Cormier, for the light heavyweight title twice but lost both times.
He was retired but recently signed with Bellator MMA. He will be facing Yoel Romero in a fight that starts his run for a title at light heavyweight.
ADVERTISEMENT
Article continues below this ad
The fight will take place at Bellator 258 on May 7th. Meanwhile, he uploaded a post on Instagram talking about the importance of cutting weight for fights.
He accompanied the post with a long caption that showed his weight loss journey. "I don't wanna hear Any excuses about why someone can't drop weight… If my fat ass from back in the day can get down from 280 to 220(right now) you can too," he said. 
He added that his lifestyle wasn't the best, but he started this journey to lose some weight when he decided to fight again. "I was fat, happy, smoking and living my best life. Once I decided to fight again with the blessing of my grandmother my journey started for weight loss."
Johnson added that when he looks at his photos from over 18 months ago, he laughs. He was a mess and didn't care about what anyone had to say to him. He might've gotten thinner, but he still doesn't care about what people say.
Johnson added that his friends compared him to a truck driver because he got so big. "All good though because I was happy and content…," he concluded.
Anthony Rumble Johnson and his fight against Yoel Romero
Johnson's fight against Yoel Romero will be their first fight in the Bellator Light Heavyweight World Grand Prix. It's the debut of both the fighters for the organization. Their match will be the quarterfinal, and the final will take place in October. 
ADVERTISEMENT
Article continues below this ad
The winners of the 3 quarterfinal matchups that have already taken place are Vadim Nemkov, Ryan Bader, and Corey Anderson.
Bader and Anderson are fighting in their semi-final match-up in July, while Nemkov will wait for the winner of Johnson and Romero's fight.
Do you think Anthony Rumble Johnson still has what it takes to defeat Yoel Romero?
ADVERTISEMENT
Article continues below this ad