Benitez confident in Ronaldo and Real players' trust
Published 11/25/2015, 4:28 AM EST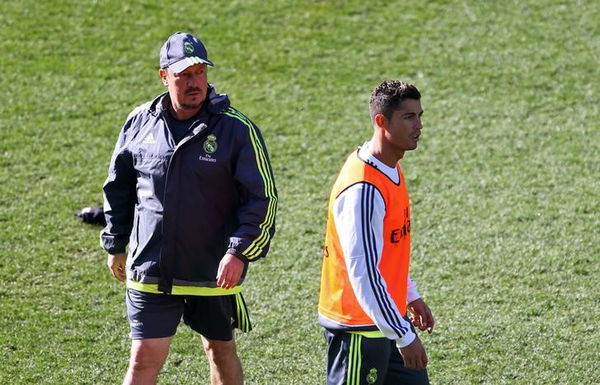 ---
---
By Igor Nitsak
ADVERTISEMENT
Article continues below this ad
LVIV (Reuters) – Real Madrid manager Rafa Benitez is "absolutely confident" his players, including striker Cristiano Ronaldo, are behind him following Saturday's 4-0 defeat by arch-rivals Barcelona in La Liga's 'Clasico'.
Under-pressure Benitez thanked Real's president Florentino Perez for his vote of confidence on Monday, and told a news conference ahead of Wednesday's Champions League Group A game against Shakhtar Donetsk there are "no conflicts" with Ronaldo.
ADVERTISEMENT
Article continues below this ad
The 55-year-old dismissed reports the Portuguese, the Spanish club's record goalscorer, was unhappy playing under him.
"This is not true," Benitez told reporters. "Cristiano is a very hard-working and an important player to our team. But we will try not to rely on the individuals."
Benitez succeeded Carlo Ancelotti in June but Real have stuttered during the early days of his tenure and have lost their last two matches to sit third in La Liga, six points behind leaders Barcelona and two behind Atletico Madrid.
"We are a great team showing good results with the exception for the last two games," said Benitez. "We are extremely upset by the defeat to Barca as it was a very important game for us.
"Of course, I would like to thank the executives for their support. We have learned our lessons from the Barca game and I hope the last two losses won't affect our team unity."
Real have won three matches and drawn one in this season's Champions League campaign to lead Group A by three points from Paris St Germain, and Benitez is adamant his side are on the right track.
"I am absolutely confident that players still trust me," he said.
ADVERTISEMENT
Article continues below this ad
"I realise my responsibility for the result and doing my best for the fans to be happy. Despite showing good results I am still often criticised and at times this criticism is not deserved.
"In this situation all I can do is to concentrate on what I can do well. I have been in football for many years and perfectly understand that two defeats cannot result into firing."
Real's Costa Rican goalkeeper Keylor Navas, who had not conceded a goal at home all season until the Barcelona match, backed his manager and said the players "support our coach whatever they say in the press".
ADVERTISEMENT
Article continues below this ad
"We lose and win together. I trust my partners. And our strength as a team is in our unity," the 28-year-old told reporters.
(Writing by Rob Hodgetts; editing by Toby Davis)