Best Grand Slam Matches of 2017
Published 12/20/2017, 6:10 AM EST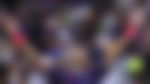 ---
---
All the euphoria has settled for now. The year 2017 has been miraculous for two of the game's biggest names- Roger Federer and Rafa Nadal (be sure to check out some crazy Fedal stats ) both grabbing 2 majors each. With the Asian hard court swing underway, and a photo finish to the ATP #1 on the cards, let's take a look at all the thrilling and pulsating drama this year's majors had to offer. We witnessed some titanic tussles and matches that would be the cornerstones for history writers, but which were your favourite ones? Dive in to know our pick for the 5 Best Grand Slam Matches of 2017
ADVERTISEMENT
Article continues below this ad
5 Best Grand Slam Matches of 2017
The one sided final set didn't stop this match from making the list. Andy Murray and Stan Wawrinka locked horns for four and a half hours, before the Swiss powered his way to his second Grand Slam final in Paris. Wawrinka dispatched 87 winners past the Brit, clearly demonstrating his big match abilities.
ADVERTISEMENT
Article continues below this ad
"I'm proud of the tournament I had…one tiebreak from getting into final when I came into the tournament really struggling." said Murray
One of the greatest stories this year was Delpo's run at Flushing Meadows. After almost giving up in his fourth round match against Thiem, the Argentine scripted one of the comebacks of the year, saving 2 match points before claiming the highly entertaining encounter. This was one of the best Grand Slam matches to be held at the US Open.
"I saw the crowd waiting for more tennis, waiting for my good forehands, good serves. I took all that energy to change in a good way and think about fighting and not retiring," del Potro said.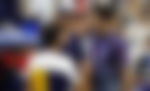 Rafa Nadal entered this year's Wimbledon with two great major runs already, a runner up in Melbourne and winner of La Decima in Paris. Nadal was looking to reach his first quarter-final at the All England Club since 2011. He then ran into Gilles Muller, a player who had last beaten Rafa 12 years ago. But this was grass, perfectly suiting Muller's game as he went on to shock the All England Club, claiming the 4hrs 48min(recall 2008!) long match.
"Definitely the biggest win [of my career], I would say," said Muller.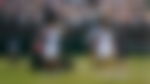 "It's more difficult when you play against a player like him that doesn't give you a lot of rhythm. I had my chance in the beginning. But when you play against these kinds of players, you cannot have mistakes with yourself," said Nadal.
Probably the match that had most on the line going into it. Federer was leading Rafa 17-14 in the GS tally and had he lost it, Rafa (after winning the US Open later this year) would have been just one slam behind!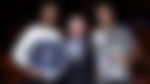 But Federer had some other plans and was finally able to beat his nemesis in a major after 10 long years. Federer made a dream comeback from his 6 months rehab and went on to clinch his 18 GS and 5 Aus Open crown in a match that had the world on the edge and which was perhaps the last Fedal final at the majors(we sure hope not).
"I'd like to congratulate Rafa on an amazing comeback. I don't think either of us thought we'd be in the finals when we were at your academy four or five years ago. I'd just like to thank my team. It's been a different last six months. I didn't think I was going to make it here."
ADVERTISEMENT
Article continues below this ad
A match for the ages, an epilogue that made hearts weep, ending arguably the greatest edition of Australian Open! Without a doubt, one of the best Grand Slam matches of the year.
Rafa Nadal was involved in another classic, Down Under, in the semis, just like in 2009 against Verdasco. This time it was an inspired Bulgarian, who pushed Rafa to the brink and went toe to toe with the Spaniard for 4 hours and 54 minutes, before he hit a ball long to end this juggernaut. Dimitrov's backhand was a real asset in this match, hurting Rafa all over the court. But they don't call Rafa a fighting bull for nothing, he dug deep to carve his way into another major final. Another worthy contender for the best Grand Slam matches of 2017.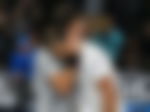 "It was a fantastic match. Very emotional," said Nadal. "I think Grigor played great. I played great. So was a great quality of tennis tonight. For me, it is amazing to be through to a final of a Grand Slam again here in Australia at the start of the year. Means a lot to me. I feel the love of the people here. They give me a lot of positive energy.
ADVERTISEMENT
Article continues below this ad